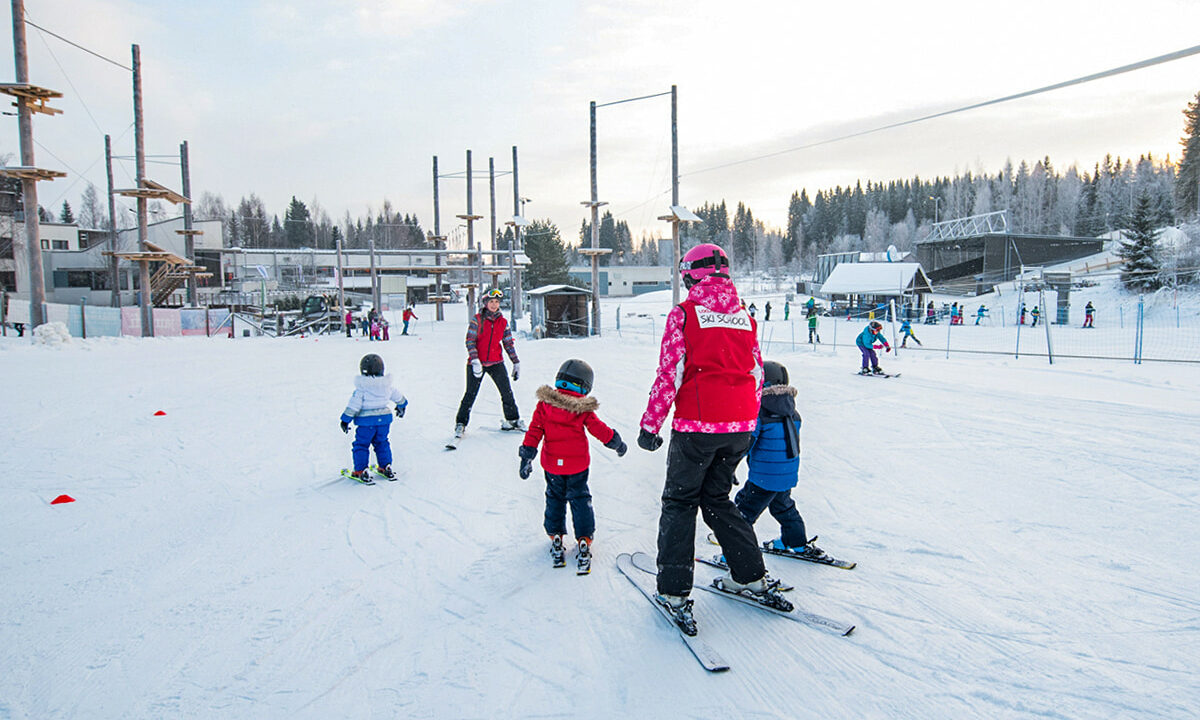 Laajis – Laajavuori Ski Resort
"Our seven-year-old girls attended the Werneri ski school last winter at Laajis. Over a single weekend, they learned the basics of the sport and, above all, gained the courage to use the lifts and ski down the hill. Their development was amazing and by the end of the season I had to do my best to keep up with them. Next winter, the dream is to learn correct skiing technique." – Sami Kuronen, radio personality, Radio Suomipop
Laajis is a year round attraction for the whole family. The Laajavuori ski resort offers various things to do for people of all ages and skiers of all levels. Laajis includes 12 slopes and 4 snowparks. The easiest snowpark is in the Children's Area which is suitable for everyone who can stay up on skis. The next step is the minisnowpark on the Auris slope, which is intended for more advanced skiers and also offers more technical elements for experienced skiers. Eturi, the front slope, features the largest snowpark at Laajis, including big jumps and long rails. WildWest, a snowpark with wooden obstacles and a wild west theme, is located on the back slopes. Laajis is one of the most important snowpark places in southern Finland, and the Laajis team and snow-groomer shaped the snowparks every day.
Laajis also offers plenty to do for families: The gentle slopes and the carpet and rope lifts are suitable for beginners, while the bigger slopes offer profiles for skiers of all levels. You can take a break at the Urban Kitchen restaurant, which serves traditional doughnuts and hot chocolate, as well as urban street food and familiar burger meals. At the Laajis ski school, skilled instructors will teach you new skills.
In summer, you can challenge yourself in the amazing zip lines of the Adventure Park or you can play disc golf with your family on two different courses. You can take a dip in Vuorilampi pond on hot summer days and the trails of Laajavuori invite you to exercise in green forests. The Urban Kitchen restaurant is located at the heart of Laajis where you can enjoy refreshments or delicious ice cream on a sunny terrace. Laajis lifts carry the most fearless family members riding downhill bikes or scooters to the top of the hill, from where routes of different levels travel to the bottom.
How to get there
Laajavuori is located only 4 km from the centre of Jyväskylä. You can reach the bottom of Laajavuori using your own vehicle or the local bus. Bus no. 25 starts from bus stop 6 at the Vapaudenkatu local transportation terminal, and operates three times an hour on weekdays and twice an hour during weekends. Check bus timetables here. For customers using their own vehicles, Laajis offers large parking areas. Check taxi prices here.