Musta Magia, firmly in anchor at Jyväskylä's Lutakko harbour, offers honest pub meals coupled with a wide selection of drinks and a jolly atmosphere.
The skipper who captained a fishing vessel in the Turku and Stockholm archipelagos in the 1970s could scarcely guess the same ship would, decades later, fill with people enjoying the summer and a good atmosphere night after night. Today known as Musta Magia, the ship now stands at anchor in Jyväskylä's Lutakko harbour. Fully refurbished for use as a restaurant, the ship fits 199 customers.
A lot of people are surprised to hear Musta Magia is a real ship, not just a shell,
Says Magia entrepreneur Arto Hakanen.
Musta Magia has room for customers on three floors, or really, decks. In fair weather, the Sun Deck is indeed bathed in sunlight. There, holiday moods are easy to come by with a pitcher of sangria or some bubbly. On Sundays the Sun Deck is host to a live music show, often hosted by a local artist.
Below decks, you can really raise the roof yourself with our karaoke evenings,
restaurant manager, Satu Kannussaari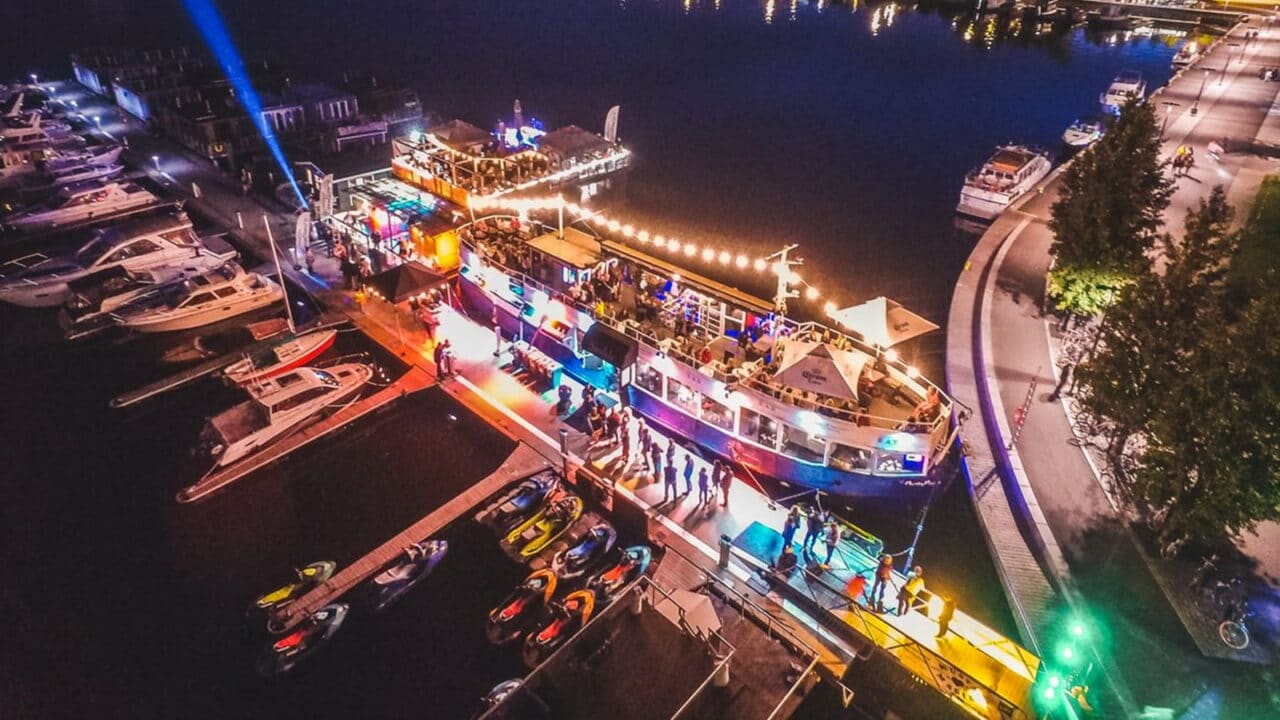 A great selection and a guaranteed good mood
Musta Magia offers high-quality pub meals with a street food touch, such as salmon soup, hamburgers, salads, chicken wings, and of course the Jyväskylä specialty taksari (sausage slices and fries). For dessert, you can sample the company's own ice cream, made in nearby Vaajakoski.
This year's ice cream options have a lot of mouthfeel, with nuts, biscuit, or whole pieces of licorice. Just incredibly delicious.
Musta Magia is also known for its wide selection of beers. The restaurant manager, who spends the winters in Spain, brings new, great ideas to Jyväskylä every summer. New drinks are designed for every summer season as well.
And we of course offer the best sangria in the harbour,
The relaxed moods at Magia are born out of a cosy environment, good food and drinks, but especially people – customers and staff alike. Kannussaari, working at Magia for the seventh summer running, has become an icon among customers, warmly welcomed at the beginning of every summer.
Kannussaari can see clearly what makes Magia so unique.
Magia is a fantastic package: a good location, some great products, and a guaranteed fun atmosphere aboard.