Midsummer magic in the Jyväskylä Region
Midsummer is a celebration of summer solstice. There is plenty to see and experience in the Jyväskylä Region this Midsummer, whether you wish to spend Midsummer relaxing in lakeside saunas, or in the pulse of fun activities and city life. Go on a refreshing cruise, book a pampering package or witness the magic of nightless night watching a bonfire in Jyväskylä Region, in the Finnish Lakeland.
#visitjyvaskylaregion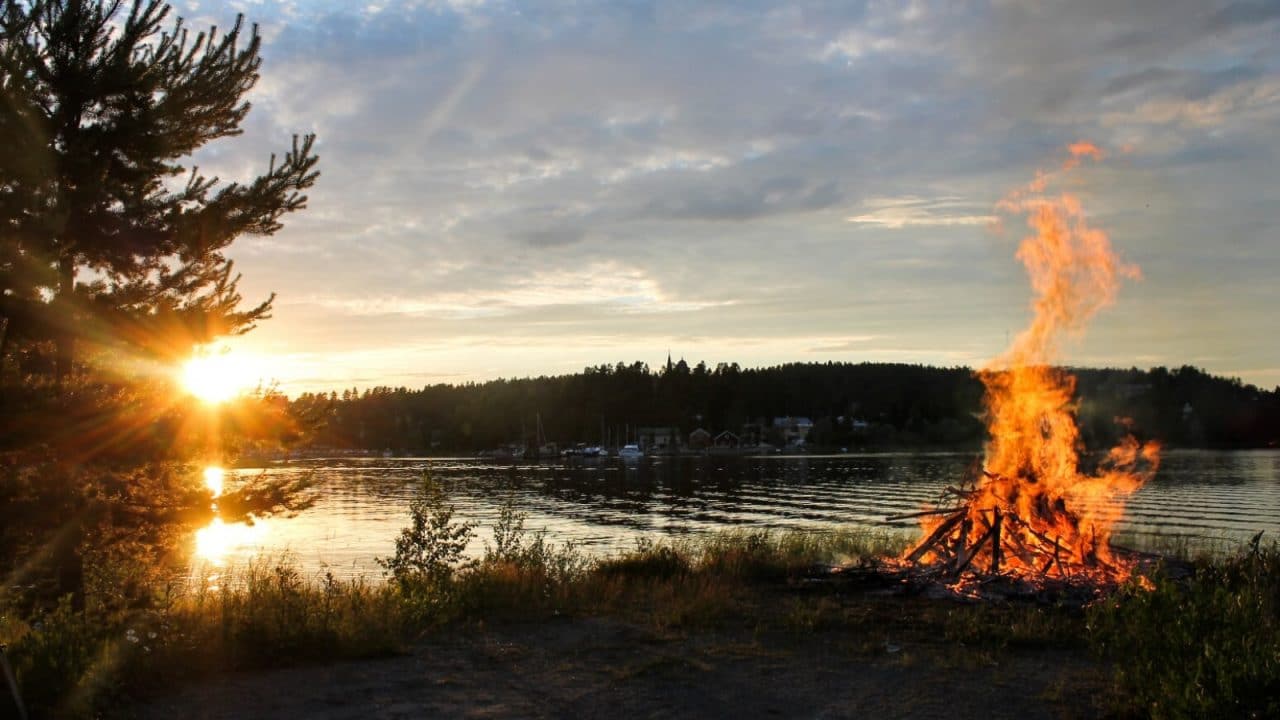 Midsummer bonfires in the Jyväskylä Region
What would Finnish Midsummer be without the enchanting crackling of a bonfire? The largest Midsummer bonfire in the Jyväskylä Region will be lit on Friday, June 23rd at 8:00 PM in Vehryt Nouka, Jyväskylä. In the scenic landscapes of Multia, bonfires will be lit on Friday at both Camping Sinervä and Tarhapään Ladonlahti as a part of Multia's Summer program. At the beautiful Riviera-like surroundings of Hietasaari Camping in Uurainen, the bonfire will be accompanied by a band, as will be the case at Keuruu's Old Laivuri Riihikahvila.
Sataman Juhannus in Laukaa harbor will immerse you in the Midsummer atmosphere with both a bonfire and live music by Jonna Ortju. In the northern Jyväskylä Region, you can admire bonfires at the charming Hannunkiven Lomakylä on Friday at 10:00 PM, as well as in various locations in Viitasaari, such as Kahvila Myllytupa. At the versatile holiday village of Revontuli in Hankasalmi, the bonfire will be lit on Friday at 10 PM. When posting about the bonfire on social media, remember to use the tag #visitjyvaskylaregion!
Please note, that if the weather is too hot and dry, it is not safe to light a bonfire.
Photo: Milla Santala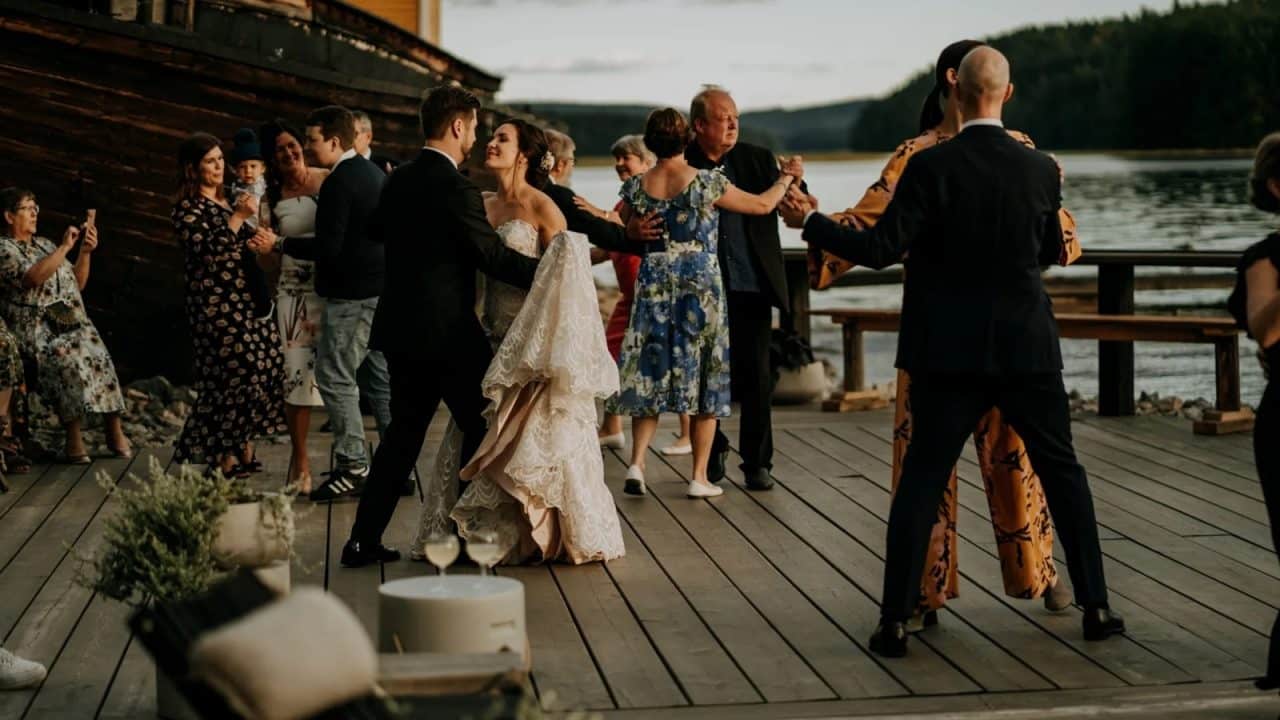 Traditional Midsummer Dances
Is there a more delightful way to celebrate the summer solstice than traditional dance parties, called 'lavatanssit'? Floral skirts swaying and dance music filling the air. This Midsummer you can enjoy the traditional dance floors at several dance pavilions in the Jyväskylä Region, like in the renowned Hangan lava in Hankasalmi on Friday, June 23rd. On the same evening, you can also twirl around at Savion lava in Laukaa, where Teuvo Oinas will charm the Midsummer revelers with his interpretations. Duo Tornado will liven up the atmosphere at Matilan Ankkuri in Äänekoski on Friday, while Trubaduuri Vesa Oksanen Band will keep the dance floor buzzing in the splendid lakeside scenery of Keurusselkä in Keuruu on both Friday and Saturday.
On Saturday, June 24th, the ambiance continues at Kuikan lava in Jyväskylä, where Nina Åkerman & ManTra will captivate the audience starting from 8 PM. The dance floor will also be lively on Saturday at Valopirtin juhannustanssit in Hankasalmi and Kyläkauppa Voikukka in Äänekoski. Don't forget to check out the ready-made Midsummer packages below, some of which include delightful Midsummer dances!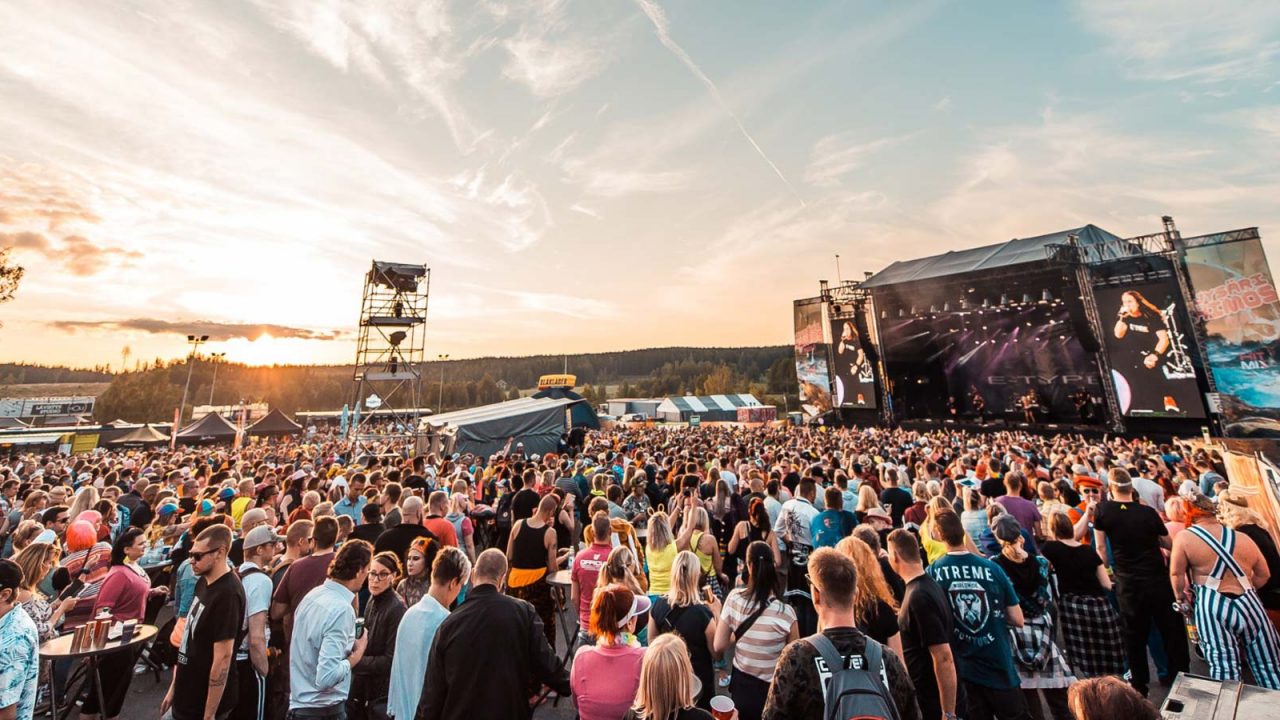 Eventful Midsummer Parties
Himos Juhannus, anyone? For those with a taste for a more energetic revelry, Midsummer is celebrated in a big way in tje Jyväskylä Region. The legendary Himos Juhannus brings Finnish star artists to the stage, such as Antti Tuisku, Apulanta, JVG, and Jyväskylä's own Gettomasa. If you have time amidst the intense partying, Himos-Jämsä offers plenty more to see, including the delightful Restaurant Hirvikartano and Jämsä Sauna village.
City Midsummer is celebrated in the heart of Jyväskylä, along the bustling Kauppakatu. It's definitely worth checking the opening hours of popular nightclubs like Escape, Proud Mary, and London closer to the summer solstice.
If you want to take your own cottage-Midsummer to the next level, you can order "Puolen tunnin bileet" (Half-Hour Party) for your celebration! "Puolen tunnin bileet" is an acoustic music package led by singer-songwriter Eva Vikman and guitarist Jussi Silpola, guaranteed to keep the party going.
Photo: Nelonen Media Live / Niki Soukkio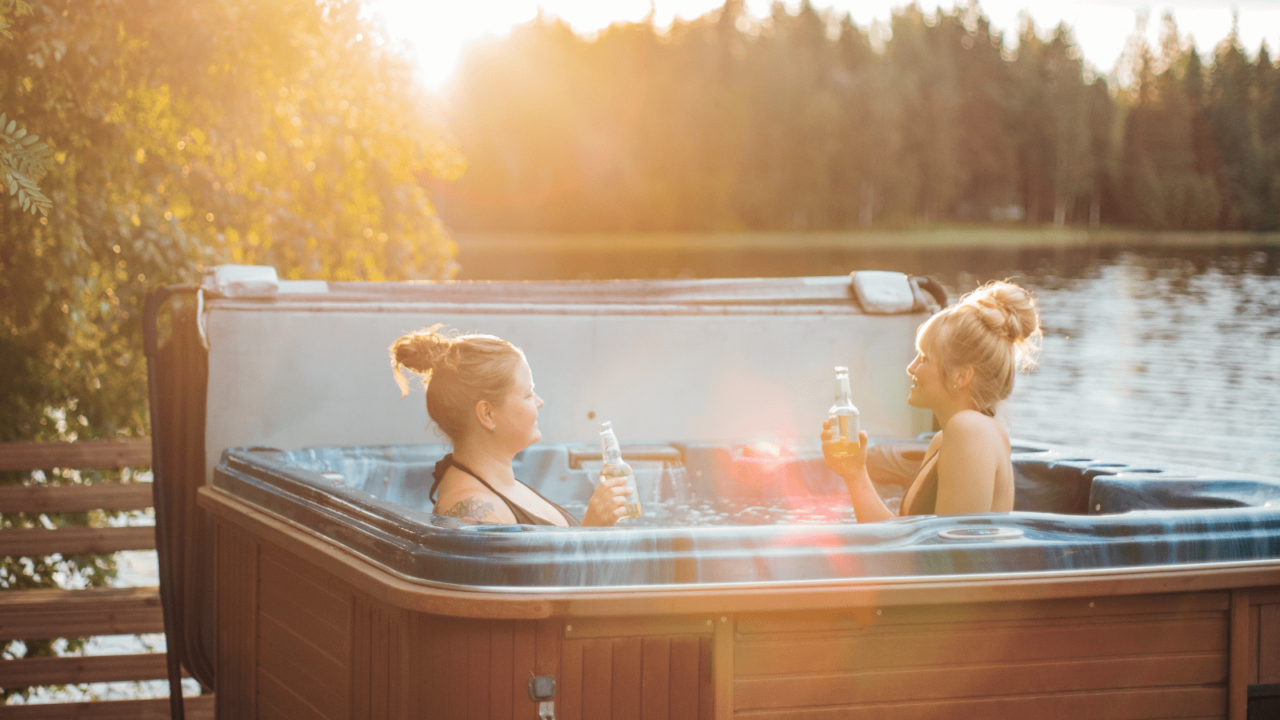 Midsummer Packages and Other Accommodation
Planning a vacation can sometimes be overwhelming. For those moments, there are ready-made holiday packages that allow you to simply arrive and enjoy! Varjola Resort in Laukaa offers a Midsummer package that includes two nights of accommodation with countryside brunches, Midsummer sauna, Midsummer dining, and Midsummer dances! Peurunka Spa & Resort also provides a convenient range of activities within its premises. There's something for the whole family: bonfires, good food, Midsummer dances, Water Park and Sauna World, a beach, and a spa.
At Revontuli Resort, in addition to the lively dances at Hangan lava and a stunning bonfire, you can also enjoy sauna sessions in their Sauna World. Will you be spending Midsummer relaxing and unwinding in a smoke sauna, tent sauna, or outdoor hot tub?
Accommodation is also available in the rural landscapes of Uurainen, as Tapsanmökki offers a spacious villa that is still available for larger groups during Midsummer! For those looking for city accommodation to celebrate City Midsummer, Scandic hotels, of which there are three in Jyväskylä, are a natural option.
Photo: Julia Kivelä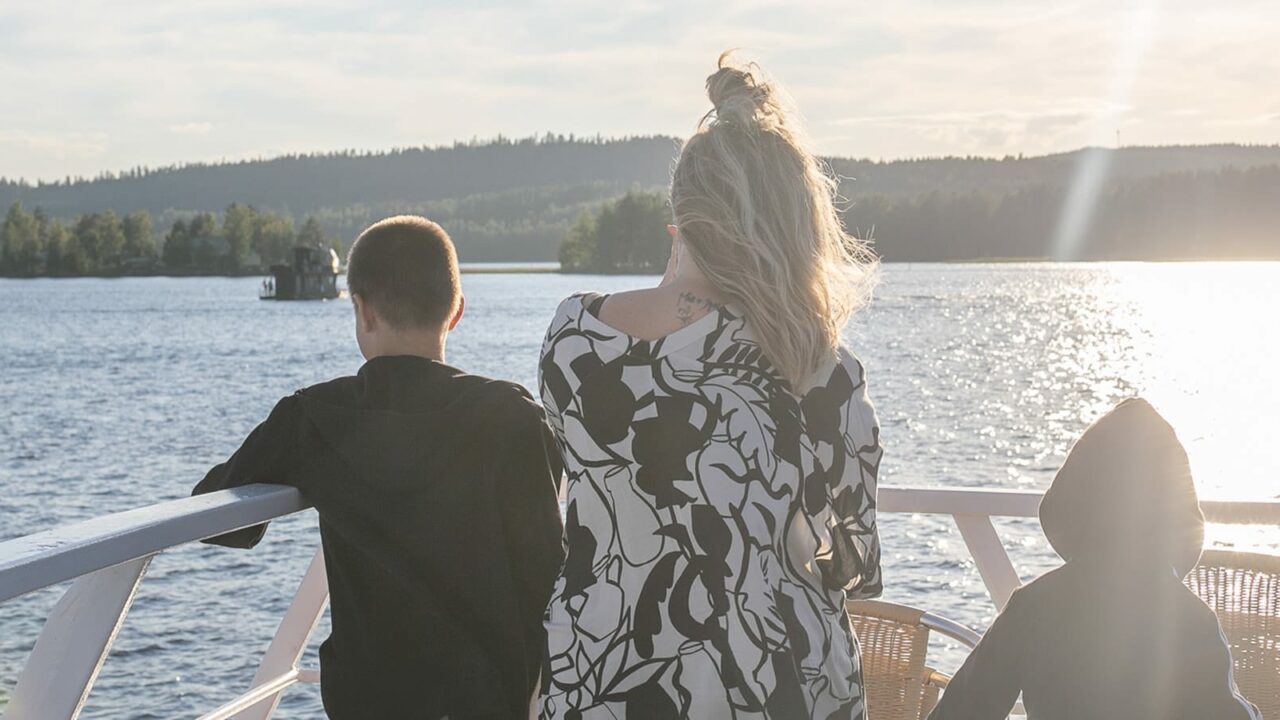 Midsummer Cruises
Cruises and water activities are an integral part of summer in Jyväskylä Region. On Midsummer's Eve Friday, there are plenty of options as MatkaRhea's ships cruise on Lake Päijänne at different times and on different vessels. M/S Rhea, named after Greek mythology, offers an afternoon cruise from 3 PM to 6 PM and an evening cruise from 7 PM to 10 PM on Midsummer's Eve. The paddle steamer Vellamo also offers both an afternoon and an evening cruise on Friday.
Päijänne-Risteilyt Hilden provides two cruises on Midsummer's Eve aboard the steamship S/S Suomi, and a delightful Midsummer Day cruise awaits you on Midsummer's Day. The ship offers restaurant services with a full liquor license.
If you wish to spend Midsummer amidst the landscapes of a national park, E-K Lines' National Park Cruise is the right choice. The rocky landscapes of Southern Konnevesi will enchant you from the waters!
Photo: Kerttu Pylvänäinen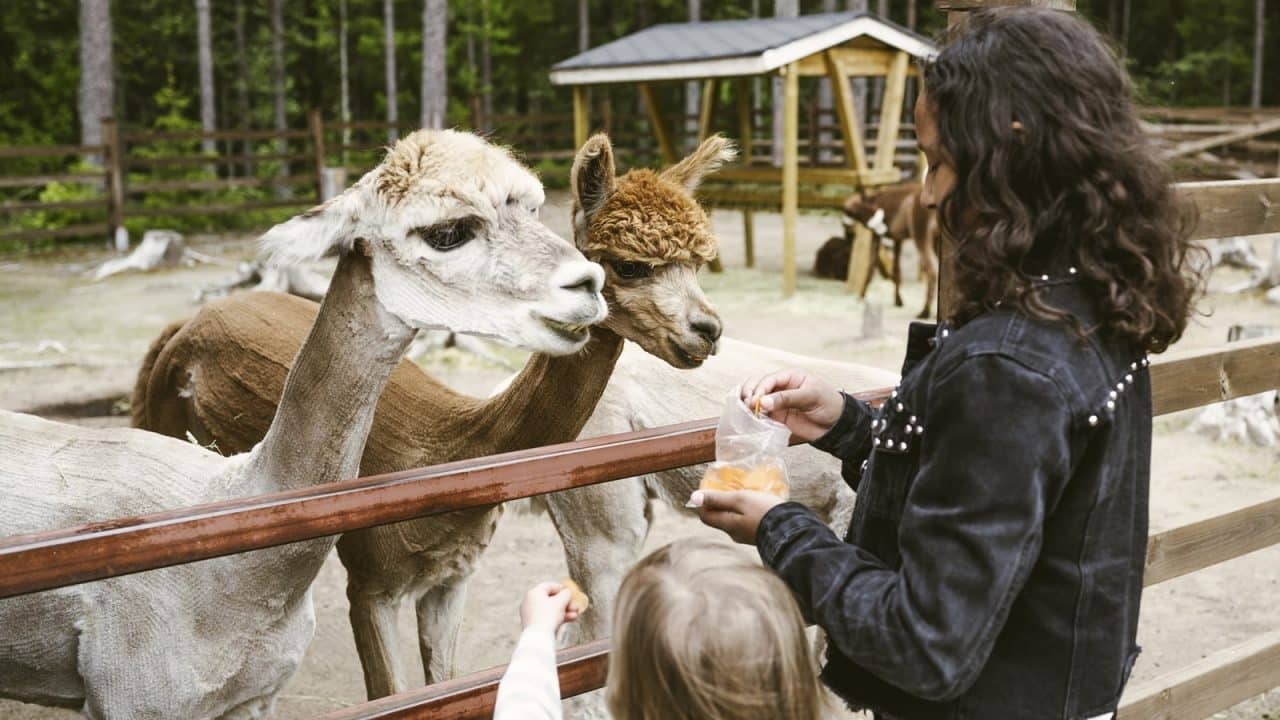 Midsummer Dates, Alpacas, and Other Midsummer Activities
Midsummer in the Jyväskylä Region offers much more than what has been mentioned before, such as midsummer dates at Hietasaari in Uurainen, open sauna evenings at Revontuli, and a flea market and treasure market at Juhlatalo Villa Mathilda! Car enthusiasts will also be interested in the Kivijärvi JAM car event, in addition to the flea market.
When making reservations for Midsummer dining, it's worth keeping an eye on the opening hours of the magnificent Kuokkala Manor. Culture enthusiasts will enjoy a visit to the Toivola Old Courtyard, and Midsummer will be celebrated at the Savutupa in the Hankasalmi Museum Village.
Families with children will be entertained this Midsummer at the Puuhapuisto Veijari  in Saarijärvi, which is open with alpacas every day of Midsummer! During the Midsummer holiday, it's also worth exploring the range of activities at Laajis.
You might also be interested in…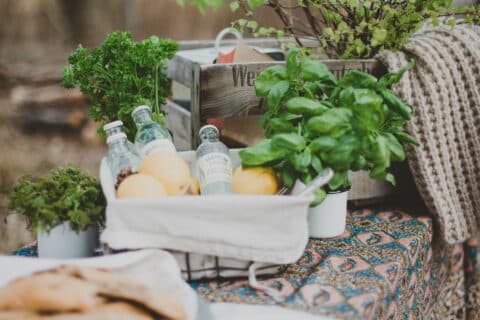 Summer cafes and restaurants in the Jyväskylä Region
Jyväskylä Region is beautiful in the summertime, and what is better than to enjoy a delicious lunch, dinner or a cup of coffee at the best summer cafés and restaurants in the region?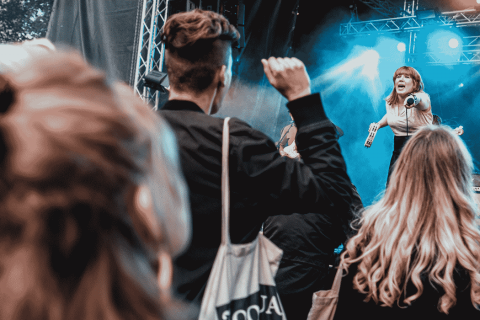 Upcoming events in the Jyväskylä Region
See the upcoming events in the Jyväskylä Region and pick your must-sees!
Nature destinations in the Jyväskylä Region
Explore the wonders of nature in the Jyväskylä Region, Finnish Lakeland.