Unique accommodation options in the Jyväskylä Region
Would you like to spend a night in a glass igloo admiring the starry sky above? What about the unique atmosphere of a country manor, or camping in a luxury setting? In the Jyväskylä Region, you can find a wide array of unique accommodation options for an unforgettable experience.  
Under the starry sky
In the glass igloo of Revontuli Resort, you will lodge in a lakeside landscape, marvelling at the midnight sun or the starry winter sky. If you are lucky, you may also witness the Northern lights that dance in the sky. Also try out our teepee-shaped igloos, Tigloos, that have two levels. 
In the Lakeland Glass Cube at Viitasaari, you can enjoy a luxury setting and indulge in a unique atmosphere. Thanks to the glass walls and glass roof, you can enjoy a picturesque natural landscape in all seasons.  
Photo: Revontuli Resort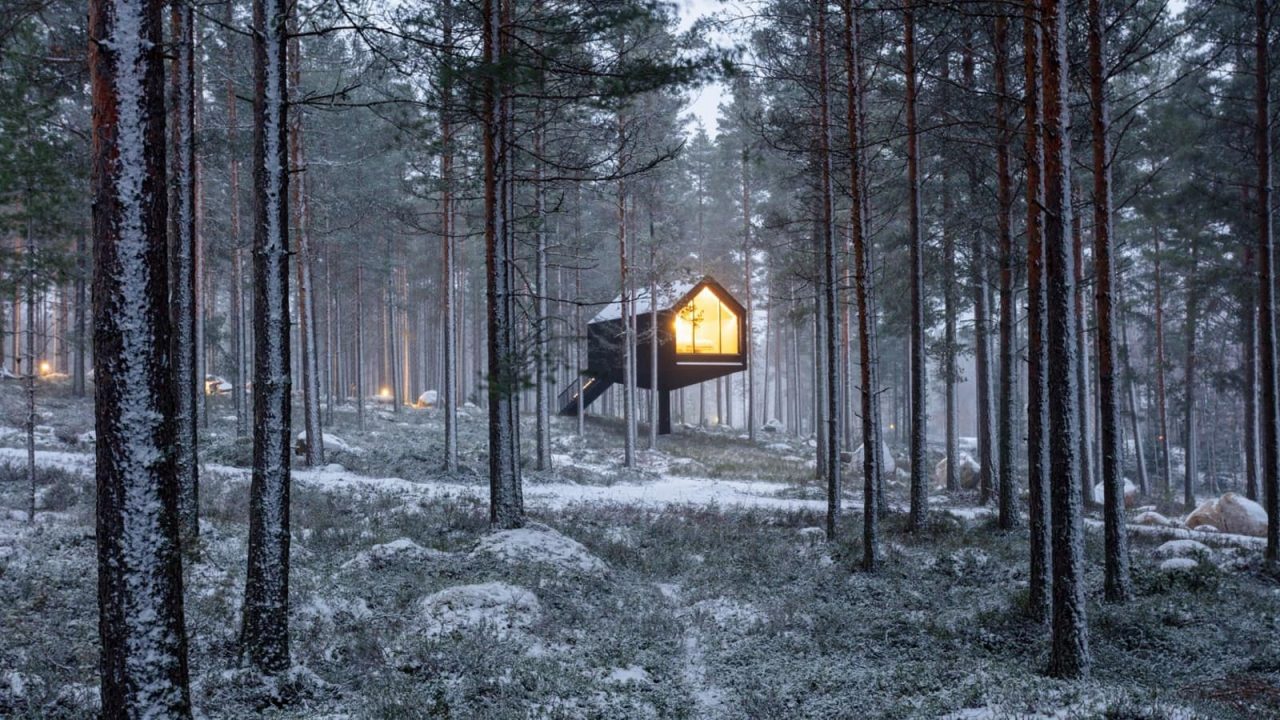 In the middle of the forest
A masterpiece of modern wood construction,  the Niliaitta lodge can be visited at Kivijärvi, near the Salamajärvi National Park. The design for this special type of accommodation was inspired by the traditional Finnish food storage. Through the large facade window of this lodge that stands on pillars you can admire the beautiful surrounding landscape of pine forest while lying in bed! 
For those looking for something out of the ordinary, the treehouse in the Tampinmylly camping ground is an experience not to be missed. If you opt for this special accommodation in Joutsa, you can marvel at sunset over Lake Iso-Säynätjärvi from a terrace with high glass walls. In Hankasalmi, you have the opportunity to stay in the LuontoVire Lumous- forest accommodation. While staying in this wooden hut, you can enjoy the forest view straight through the large windows.
Hikers and walkers should head for Hankasalmi, the Häähninmäki outdoor recreation area. There is an extensive network of trails as well as an observation tower, completed in 2020, where you can also stay overnight. Hikers are however not left at the mercy of nature, for there is a heated cottage on top of the observation tower of Häähninmäki (no bookings for overnight stays in the summer).  
Photo: Marc Goodwin Archmospher
Following the traces of Architecture
Lovers of architecture and design will head to Säynätsalo, Jyväskylä. One of the most outstanding works of the world-renowned Finnish architect Alvar Aalto is the Säynätsalo Municipal Hall. This castle-like red-brick building was erected in 1949 following an invitational competition, and it is considered to be one of Aalto's main works. 
It houses guest rooms and apartments for tourists, where even Alvar Aalto and his wife Elissa stayed overnight in their time. Two of the original guest rooms actually carry their names.  
Photo: Tero Takalo-Eskola
Above the ground
Would you like to enjoy a unique experience by staying in a tent? You can sleep in a Tentsile Stingray stretched between trees in the Camping Sinervä at Multia or in the midst of nature near the Pirtti house in Kinkamo. 
You can also try out a Tentsile by lying comfortably on sheep hides at Hakamaa sheep farm following a great day out in Veijari activity park. Tentsiles are also available in Suopirtti farm after a bath at a barrel sauna, or at Havumieli resort after a hiking day in Leivonmäki National Park. 
In the Hall of a Million Stars at Nukula, tourists can experience the magic of untouched nature as they stay overnight in the middle of a forest in a traditional hammock. Our guests may choose where they wish to set up their own 'halls'. 
Photo: Suopirtin Tila
Luxury camping
If you look for a camping experience but don't wish to give up on your comfort, glamping might be the perfect choice for you. Luxury tent accommodation is provided by Hideaway Glamping by the clear blue waters of Lake Päijänne, by Hidden House Pirttijärvi, located in the sheltered terrains of Jämsä, and in the lodgings in the yard of Karkausmäki Kammari inn. 
Anyone looking for an original farm experience should opt for luxury camping at Ohelanaukee. Those looking for peace of nature might also be attracted by Camp Kartano Keuruu's luxury tent village. 
A Touch of History
You can immerse yourself in the atmosphere of bygone times if you stay overnight in the cosy rooms of Taulu Estate ("Taulun Kartano"), or in Saarijärvi enjoying the charming country-style decor of Ruustinna that is housed in an over one century old parsonage. You might also like to be surrounded by the genuinely rural landscape of Marjoniemi farm at Uurainen. 
Kinnula Old Parsonage is the right destination for anyone looking for idyllic accommodation with a touch of luxury. The bedchambers and log sheds of this over one century old parsonage can also accommodate larger groups. 
Photo: A&C Restaurants
Special attractions
The number one destination for train enthusiasts is Haapamäki Steam Locomotive Park in Keuruu. Visitors can stay for the night in the cabins of an old railway car after visiting the world's largest steam locomotive park.  
Finland's first aircraft hotel will be completed in Uurainen, where a unique tourist experience is being created from an old SAAB 340B aircraft. In the chassis of a passenger plane placed on a hilltop you can experience a truly exceptional night!  
Photo: Markus Kivelä
You might also be interested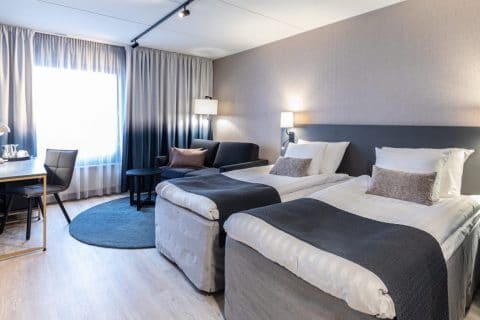 Have a city holiday in the Jyväskylä Region
Spend a night in a trendy city hotel or stay in an attractive small town.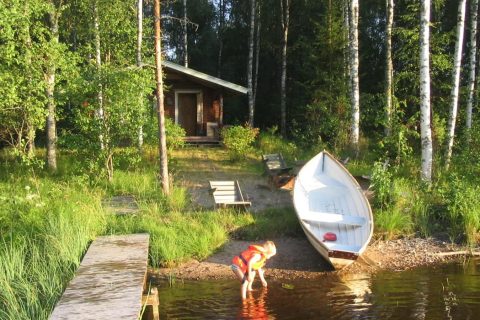 Enjoy the nature and the cabins
Get to know a large selection of cottages in the Jyväskylä Region.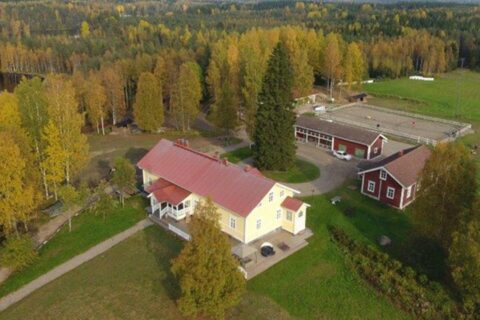 Atmosphere of a farm
Experience a genuine atmosphere of a farm in a peaceful environment in the countryside.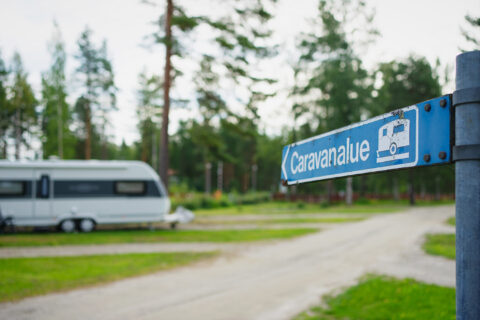 Caravan life
Enjoy caravan life in cozy campgrounds of the Jyväskylä Region.