Municipalities of the Jyväskylä Region
In addition to Jyväskylä, the Jyväskylä Region includes the municipalities of Jämsä, Muurame, Toivakka, Joutsa, Luhanka, Keuruu, Petäjävesi, Uurainen, Multia, Laukaa, Hankasalmi, Konnevesi, Äänekoski and a part of Sydänsuomi: Kinnula, Kivijärvi, Pihtipudas ja Viitasaari. The Jyväskylä Region is home to two UNESCO World Heritage sites: Petäjävesi Old Church and the Oravivuori triangulation tower. In addition, the region has more sites designed by Alvar Aalto than any other area its size in the world.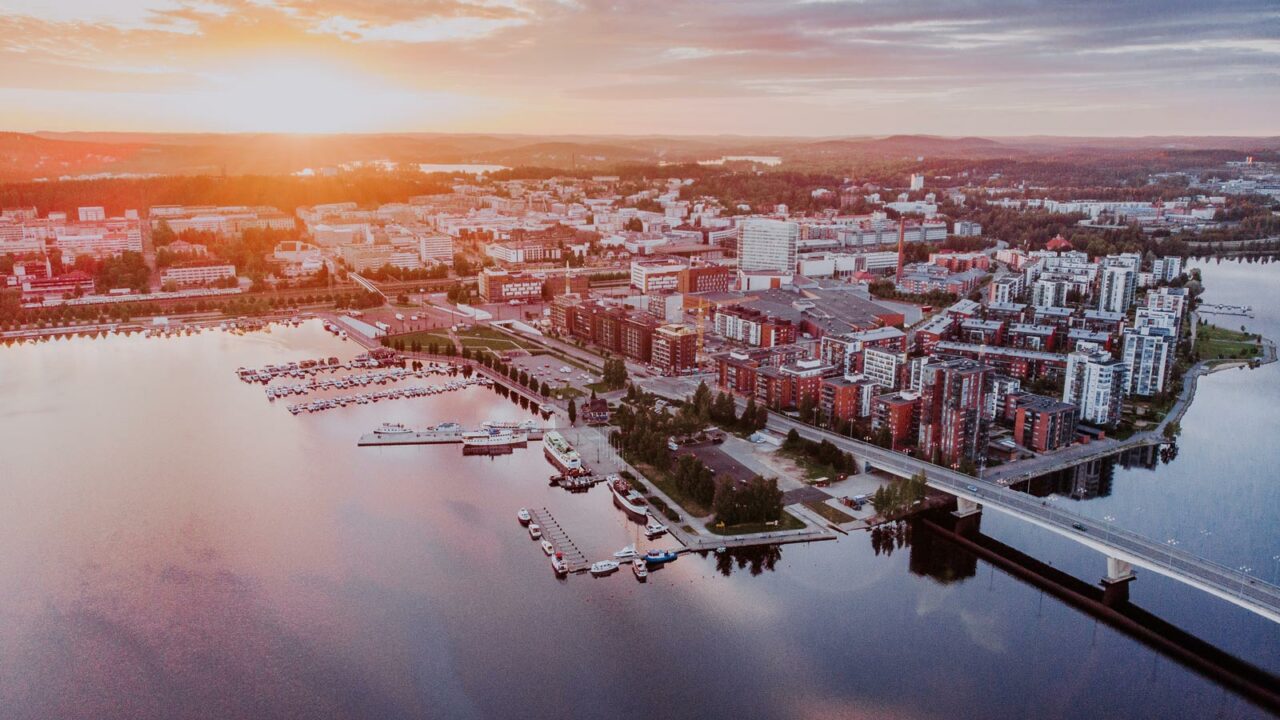 Jyväskylä
One of the most attractive areas in Finland, Jyväskylä is the modern and youthful home of 143,000 residents. Its conveniently compact city centre and vibrant countryside create a fascinating whole. Famous for its students and architecture, Jyväskylä offers a wide range of Finnish and international events as well as activities around the year. Its events, sights, restaurants and accommodation and shopping opportunities attract a large number of Finnish and international visitors. Read more about Jyväskylä.
Photo: Julia Kivelä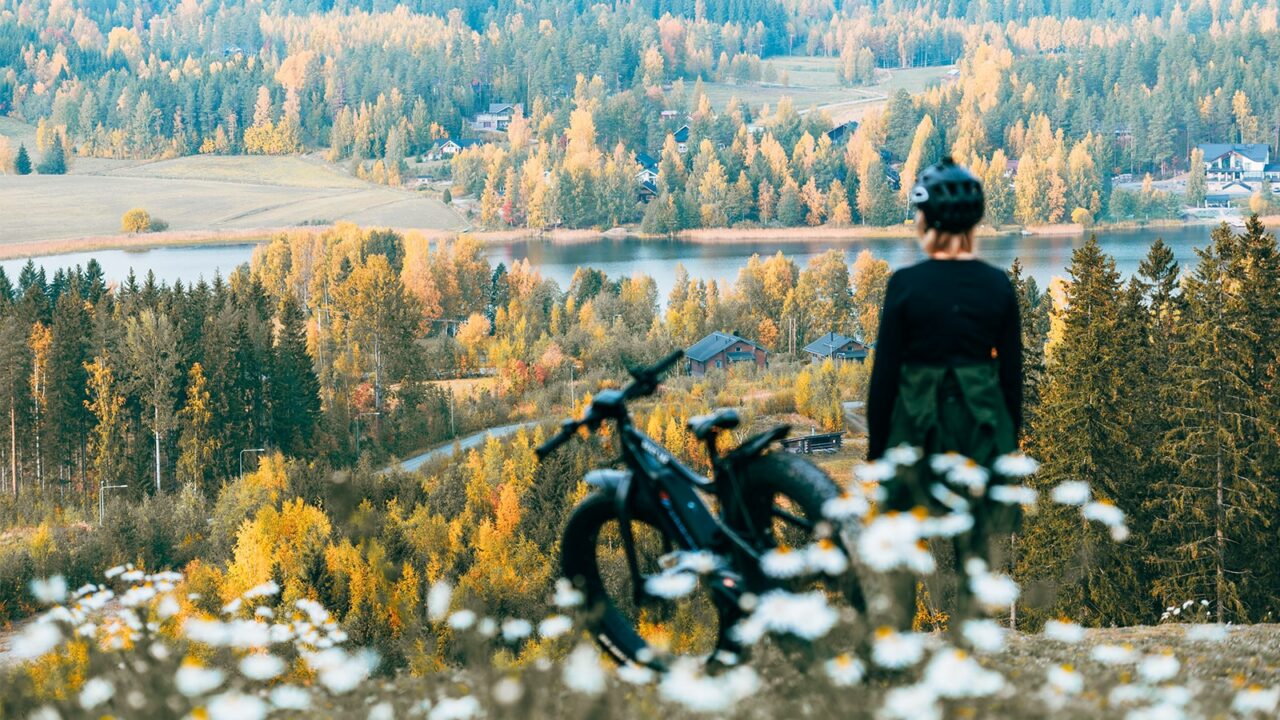 Jämsä
When vacationing at Jämsä you won't run out of fun activities! During winter time Himos Ski Resort offers snowy activities and experiences on the center's 21 slopes and over 100 kilometers of ski trails. As the summer arrives, Himos turns into a stage of various music festivals and events. The versatile nature of Jämsä is a true nature-goer's treasury with its rocky gorges, lush forests and blue lakes. The tallest waterfall in the Jyväskylä Region, Juveninkoski is one of Jämsä's most important natural attractions. Jämsä, with about 21,000 inhabitants, can be easily reached by car or public transport, since it is conveniently located between two major cities, Jyväskylä and Tampere. Read more from Himos-Jämsä website.
Photo: Jukka Paakkinen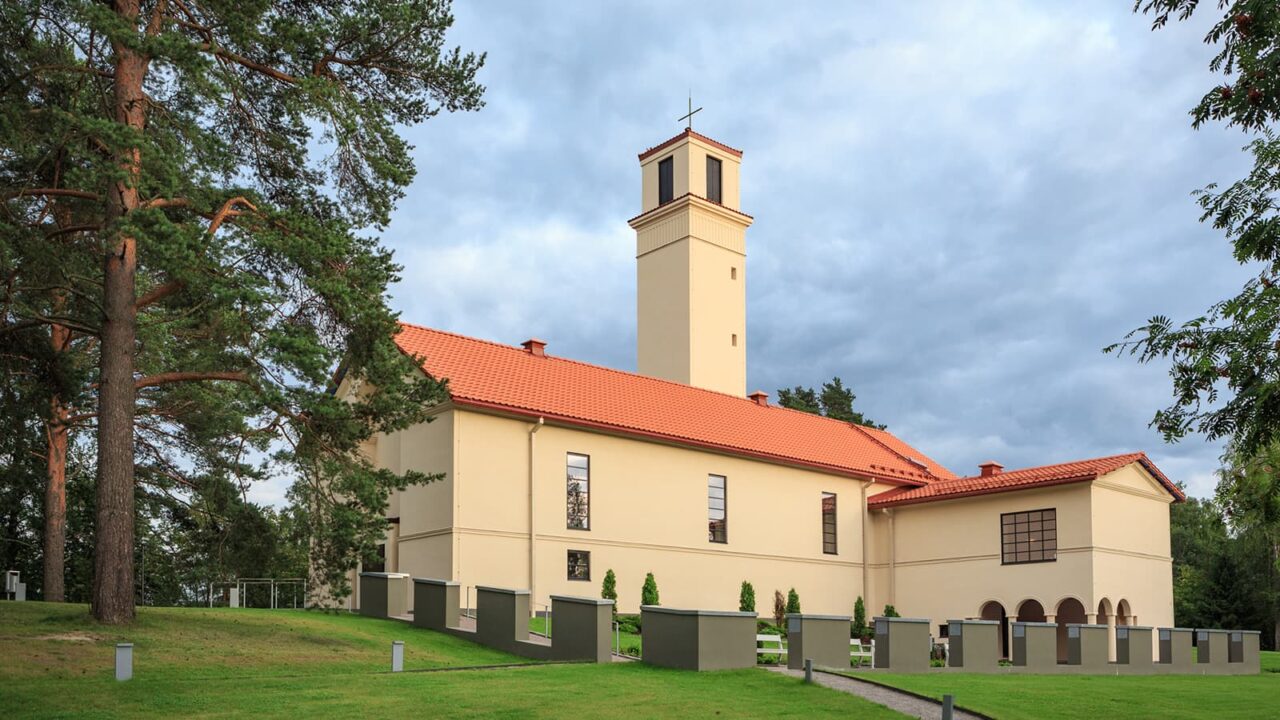 Muurame
The beautiful and active Muurame is just a 15 minutes' drive away from Jyväskylä! Come for the skiing, golfing, the theatre, concerts, or riding. We also have padel courts and a petting zoo. You can go hiking on the Muuramenjoki River nature trail or on the slopes of Muuratharju Ridge. While here, you can see our Alvar Aalto -designed church and the Ukkometso light installation. One of your accommodation options is the Riihivuori Ski Resort. Read more at the Muurame website.
Photo: Tero Takalo-Eskola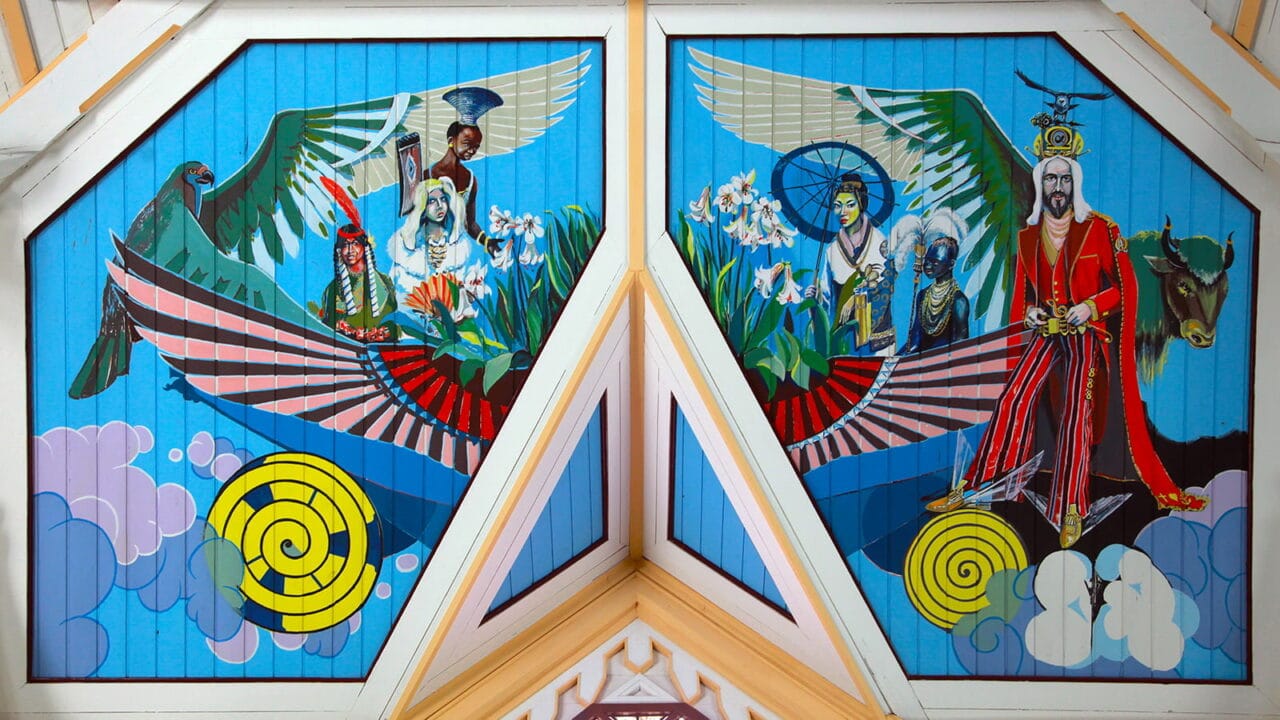 Toivakka
Less than 30 minutes from Jyväskylä, Toivakka has lots to see and to experience. In the church of Toivakka, you will find the famous ceiling paintings by Pellervo Lukumies. Toivakka combines living close to nature with a wide range of recreational possibilities. Enjoy nature on the waters of the rugged Päijänne lake as well as on the beautiful nature paths of Toivakka. Engage in mountain biking, frisbee golf, or riding – in Toivakka, imagination is the only limiting factor!
Wellness and event services are provided by a number of enterprises including the Taulu manor, Ruuhipirtti, Pistoretki, the Huikko manor, Nukula, and Sun Toive. The entrepreneurs have concerts, retreats, yoga, excursions, summer stock theatre, good food, and more on offer. Read more about Toivakka.
photo: Heikki Kotilainen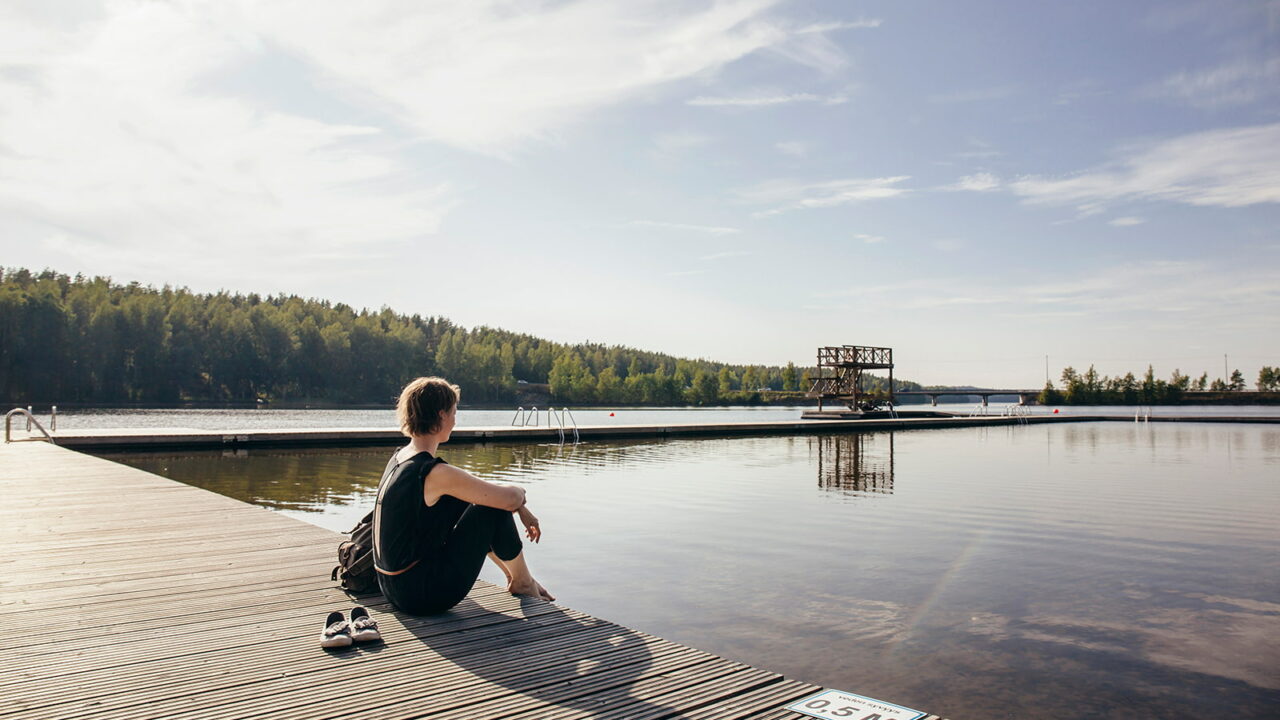 Joutsa
Joutsa is a lively and pleasant municipality situated in southern Jyväskylä Region on highway four. The attractive lake scenery, excellent selection of services on offer as well as numerous events make Joutsa a fascinating tourist destination. Leivonmäki national park's well maintained and easily walked trails take the visitor through bogland, ridges and lake shores. It makes a wonderful venue for a day trip but the lean-to shelters and locations for open fires also permit overnighting. Read more about Joutsa.
kuva: Sami Mäkinen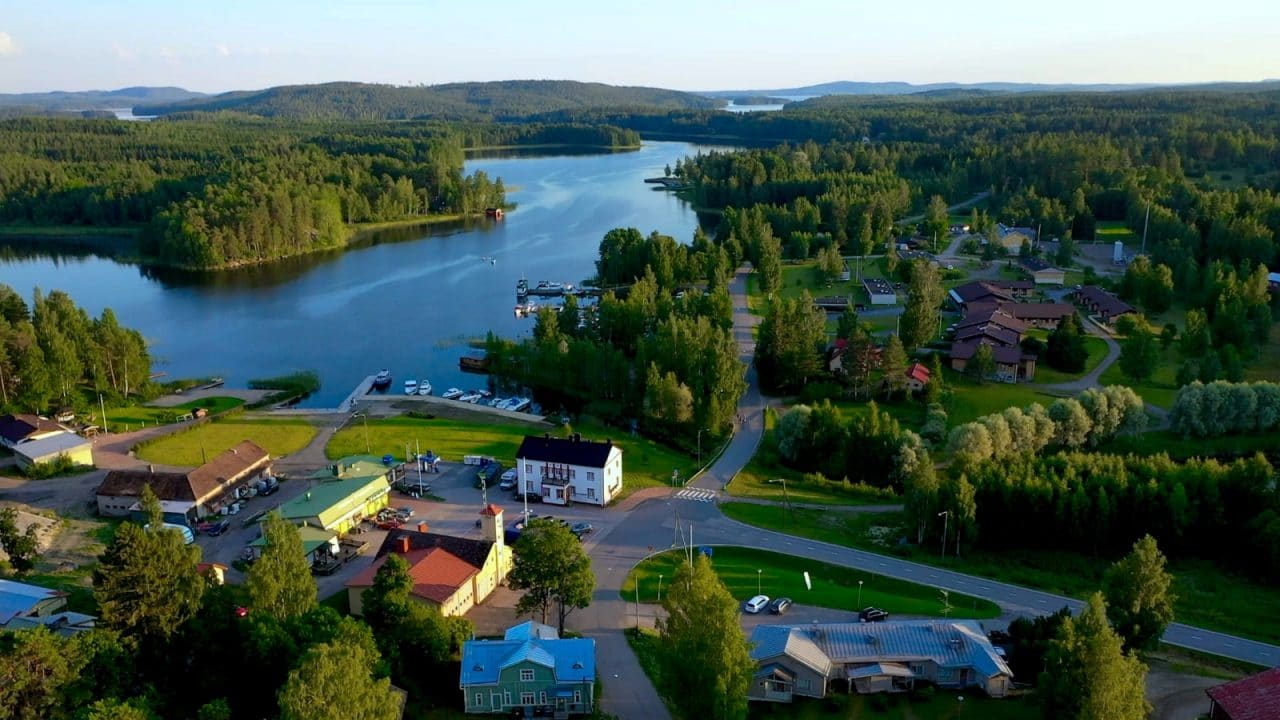 Luhanka
Luhanka is a unique municipality with archipelago landscape in Päijänne shoreline in southern Jyväskylä Region. Päijänne offers a water route to the center of Luhanka, which has even been described as the most beautiful in Finland. The cozy market area hosts a variety of events during the summer and has gathered services such as dining and accommodation, as well as a refueling point for boaters.
Up to a third of the municipality's area is inland waters. Thanks to its archipelago landscape, Luhanka is a popular municipality for summer cottages. Well-kept forests and fields also increase the municipality's comfort for travelers, cottage owners and residents. Luhanka, the smallest municipality in mainland Finland, pampers both residents and travelers with its beautiful lake scenery, unique places to visit and the fresh breathing air cleaned by forests.
Luhanka – Life on the shores of Lake Päijänne. Read more on Luhanka municipality's own website.
Photo: Tomi Salminen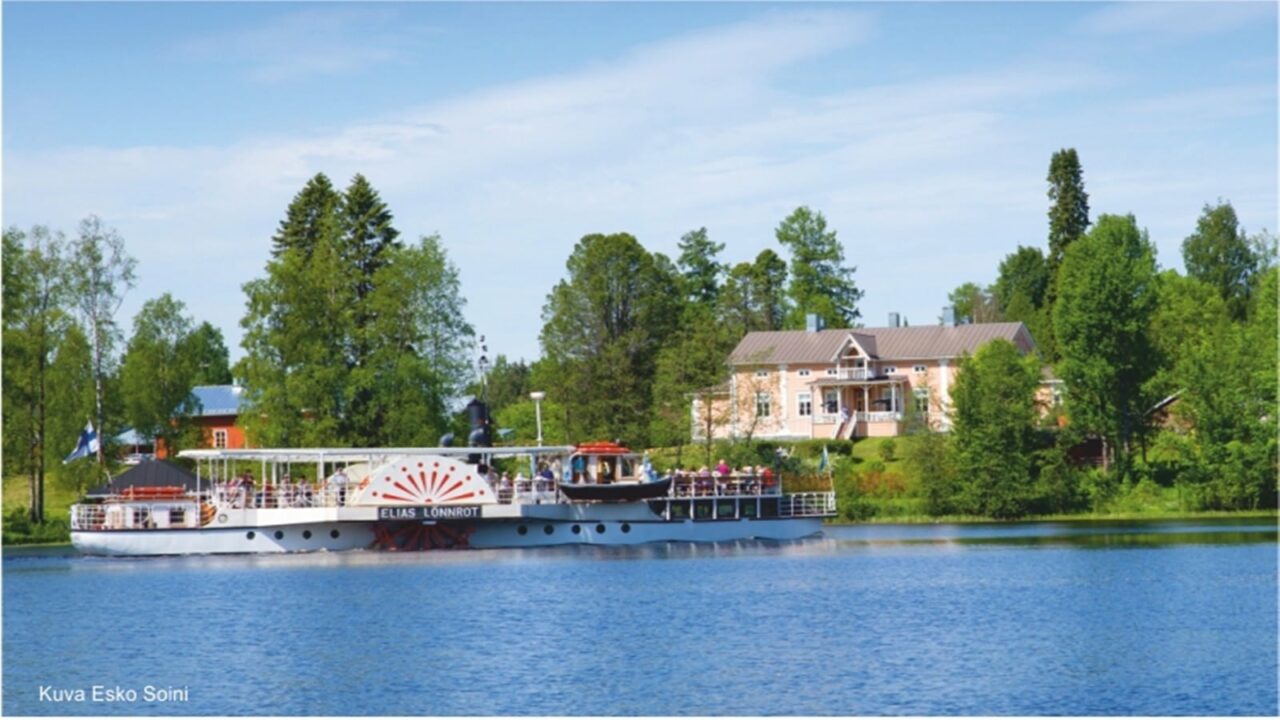 Keuruu
Keuruu offers memorable experiences with its beautiful nature, rich history and diverse culture. Historically significant area of Old Keuruu takes visitor on an interesting journey back in time. The charming area has been built around the Old Church of Keuruu that was inaugurated in 1758. The wooden church is a great example of Finnish church architecture and it has stood up quite well against the test of time. Restaurant Pappilan Taverna treats its guests with hearty meals and cafe delicacies in the heart of Old Keuruu. From the deck of paddle steamer S/S Elias Lönrot one can marvel at Lake Keurusselkä's magnificent views and hikers are pampered with versatile selection of nature trails and natural attractions. Read more from Visit Keuruu website.
Photo: Esko Soini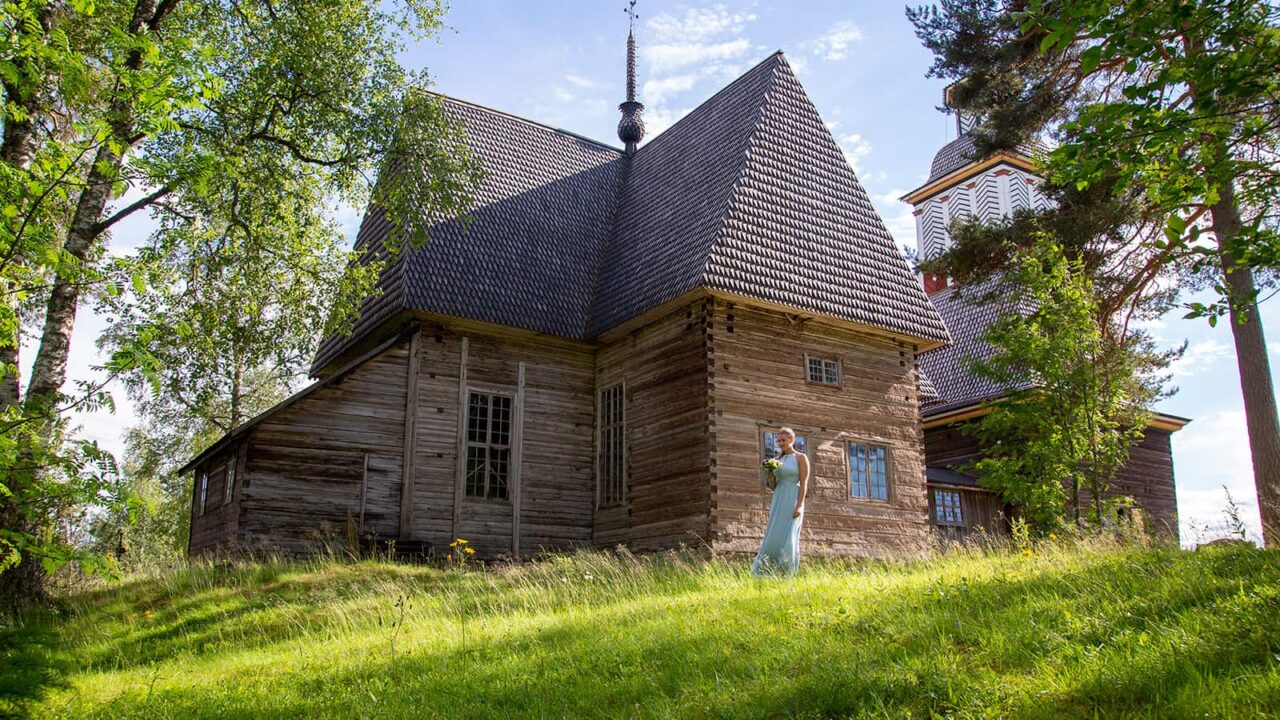 Petäjävesi
Very much a country village at heart, Petäjävesi possesses enchanting natural attractions, in Petäjävesi Old Church a UNESCO world heritage site, and is home to some 4 000 people. Petäjävesi can be reached from Jyväskylä in under 30 minutes.
Stay overnight in a vicarage croft dating back over a hundred years, pet some sheep, enjoy the nostalgic romance of the countryside in a farmhouse suite or rent a summer cottage set amidst outstanding nature – in Petäjävesi life is there to be enjoyed. Known for its community spirit and local food, Petäjävesi has over 150-year-old roots extending deep into Finland's soil. Read more about Petäjävesi.
Kuva: Anne Kalliola
Uurainen
In Uurainen, a municipality of happy people, smiles are easy to find – Uurainen's residents are demonstrably the most content with their lives. Central Finland's most youthful municipality offers visitors nature in close proximity as well as unique activities. Marjoniementila, Hepokuusela, Huutoniemi recreational area and the locality's other services guarantee a holiday break that functions smoothly and is full of experiences in surroundings of outstanding natural beauty. Summer in Uurainen is punctuated by a number of popular events, while culture lovers take great pleasure in Uurainen church, completed in 1905. SF-Caravan Keski-Suomi, often called the riviera of the Jyväskylä Region, is located in Hietasaari on the shore of Lake Kyynämoinen. Read more about Uurainen.
photo: Lina Markkanen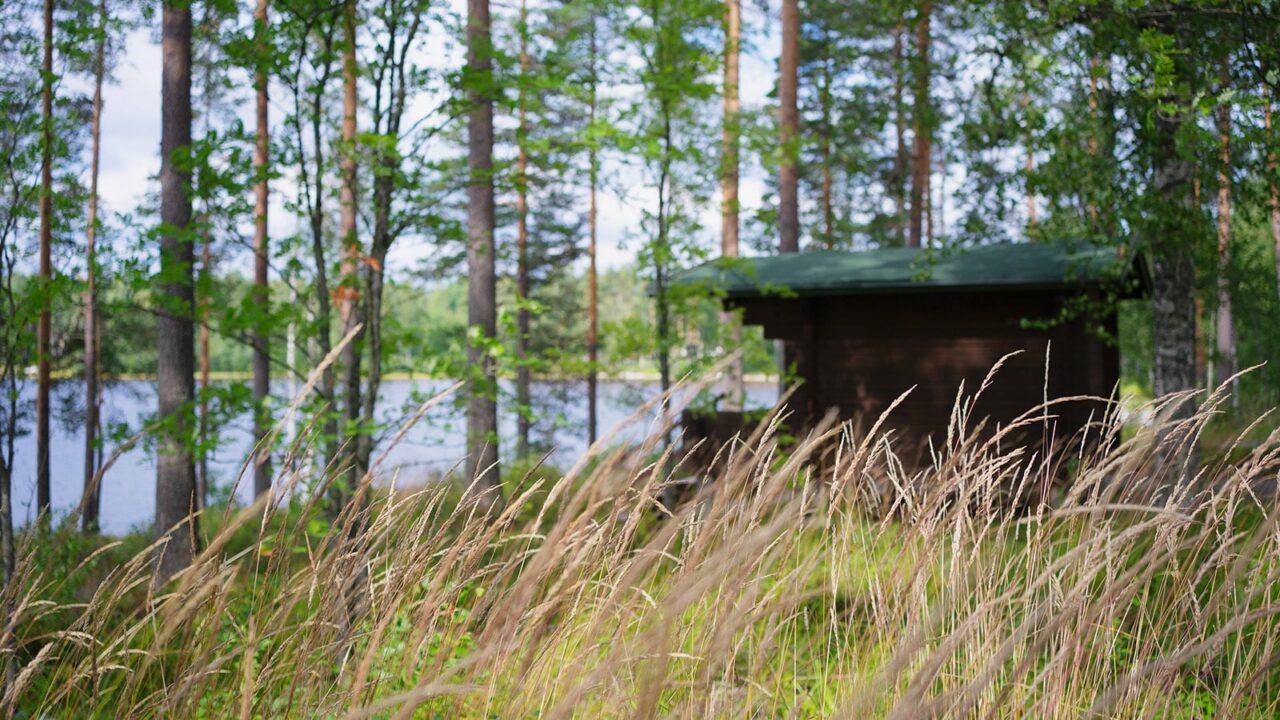 Multia
It is commonly said that Multia is a comfortable and cozy place to be. When asked why, you often hear the answer, "that's just the way it is." As the discussion goes deeper, one hears that in the presence of Multia's residents you can really feel their authenticity, as well as the desire to take care of others. It's the people of Multia that make you feel like home. Therefore Multia is beautiful from the outside as well as from the inside – the landscape is beautified by numerous clear watered lakes, rivers and roaring rapids. The Circle of the Three Lakes is a paddling route that should be added on every water sport enthusiastic's bucket list. Diverse hiking trails and lakes that are rich in fish offer a unique selection of outdoor activities to choose from. Read more from the website Visit Multia (in Finnish).
Photo: Lina Markkanen
Laukaa
With its 19 000 inhabitants Laukaa is widely known for its active lifestyle, events, theatre, breathtaking natural attractions and varied terrain crisscrossed by hiking trails. Laukaa's most popular visitor destinations include Spa Hotel Peurunka, Laukaan Peurunkagolf's 18-hole golf course, the art exhibitions at Taidekeskus Järvilinna, Tupaswilla heritage village and Varjola Resort with its many activities. Children are particularly enthralled by Nokkakivi amusement park, the animals at Tarhalehto Farm and Hilarius Mouse in Peurunka. For more top tips on what to see, do and experience in Laukaa, go to website of Visit Laukaa.
Kuva: Keijo Penttinen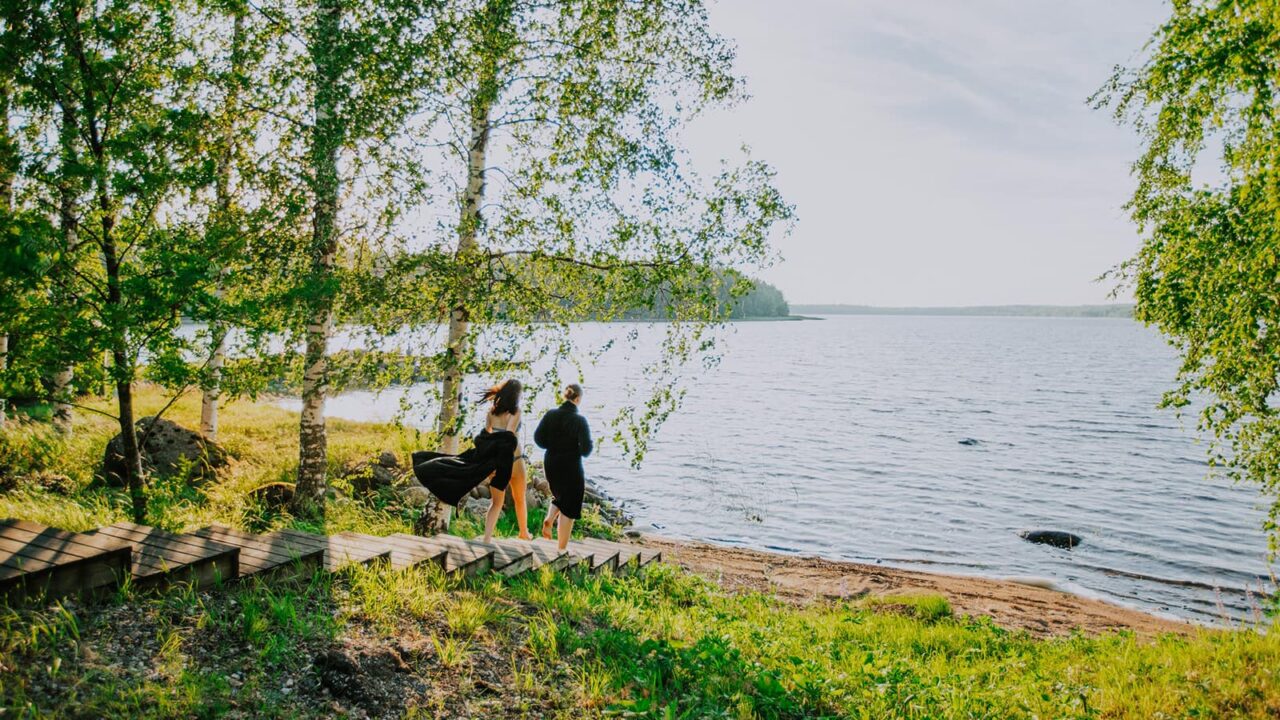 Hankasalmi
Revontuli Resort's sauna world and entertainment offer – golf, bowling and dining – as well as fantastic igloos stand at Hankasalmi's heart. In winter Finland's best ski centre for families – Häkärinteet – offers 13 ski slopes plus the Häkä Snow Park. From Häähninmäki there is a network of recreational trails extending over 100 km for hikers and mountain bikers set amidst outstanding nature. Sepän Galleria, the museum village in the centre of Hankasalmi proper as well as the observatory at Kankainen are all worthy of a visit. Erä's Pete in turn will be happy to arrange activities and excursions as required. Read more about Hankasalmi.
Photo: Julia Kivelä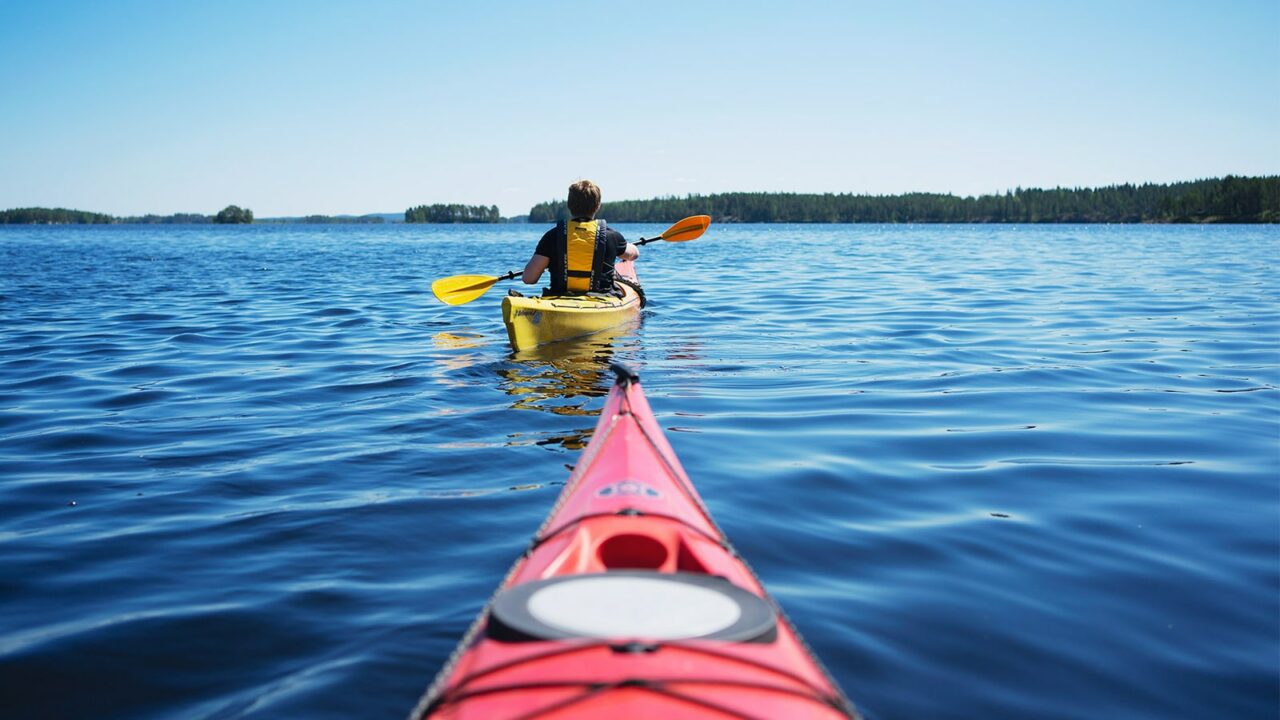 Konnevesi
At Konnevesi you'll spend easygoing holiday while enjoying the beautiful scenery that the pristine nature and clear waters provide.
Southern Konnevesi National Park, located on the islands and shores of the southern part of Lake Konnevesi was established in 2014, which makes it the youngest of Jyväskylä Region's national parks. Rocky and rugged park offers challenging hiking trails surrounded by area's breathtaking nature. In addition to hiking Southern Konnevesi is an ideal destination for kayaking and rowing with its plentiful islands and clear waters. Land on the beautiful beach of Lapinsalo island and pick a handful of blueberries while making your way to the barbecue hut. Konnevesi is full of memorable nature experiences! Read more from the website Visit Konnevesi.
Photo: Lina Markkanen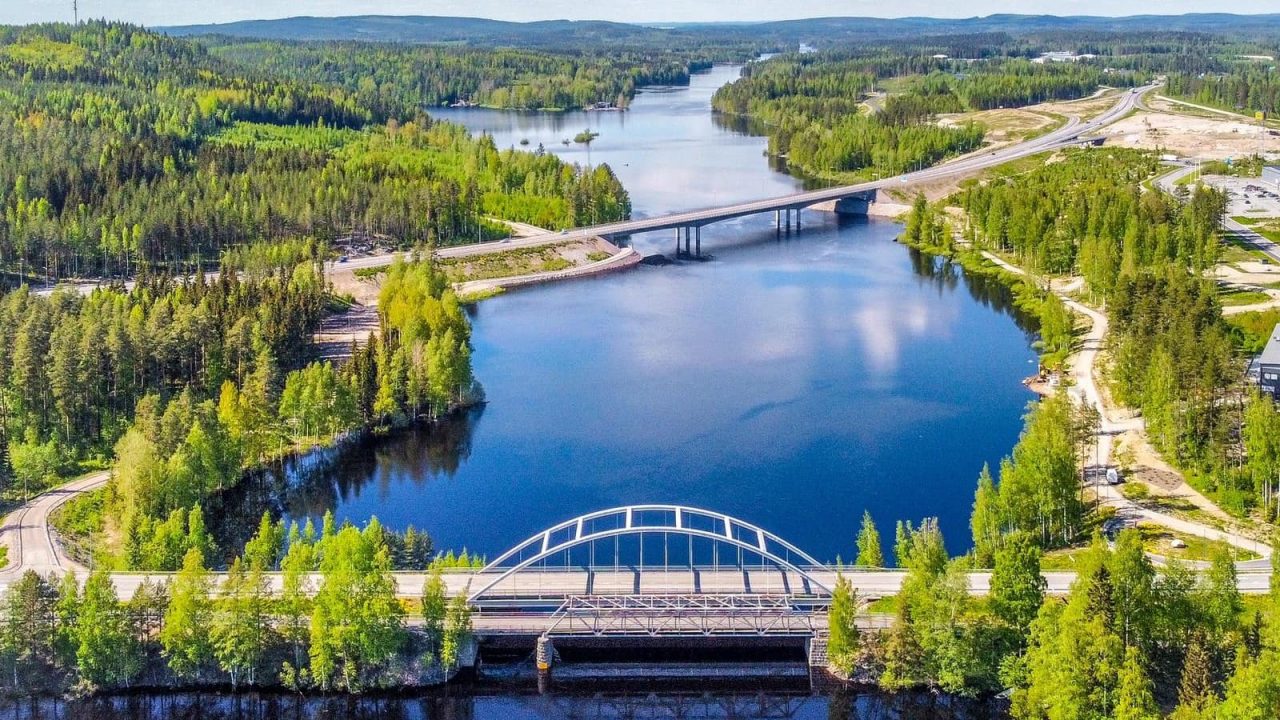 Äänekoski
The pearl of northern Jyväskylä Region offers an exciting expedition to hidden locations and national landscapes that have attracted world fame. Äänekoski is a city of contrasts, where lofty ridges, thousands of kilometres of lake shore and untamed rapids stand in antithesis to a world-class hub of technological and bio economy expertise. Äänekoski's uniqueness is born out of the diversity of its villages and urban areas and the harmony of opposites. Explore Äänekoski's tourist locations on the website of Visit Äänekoski.
Photo: sinijapete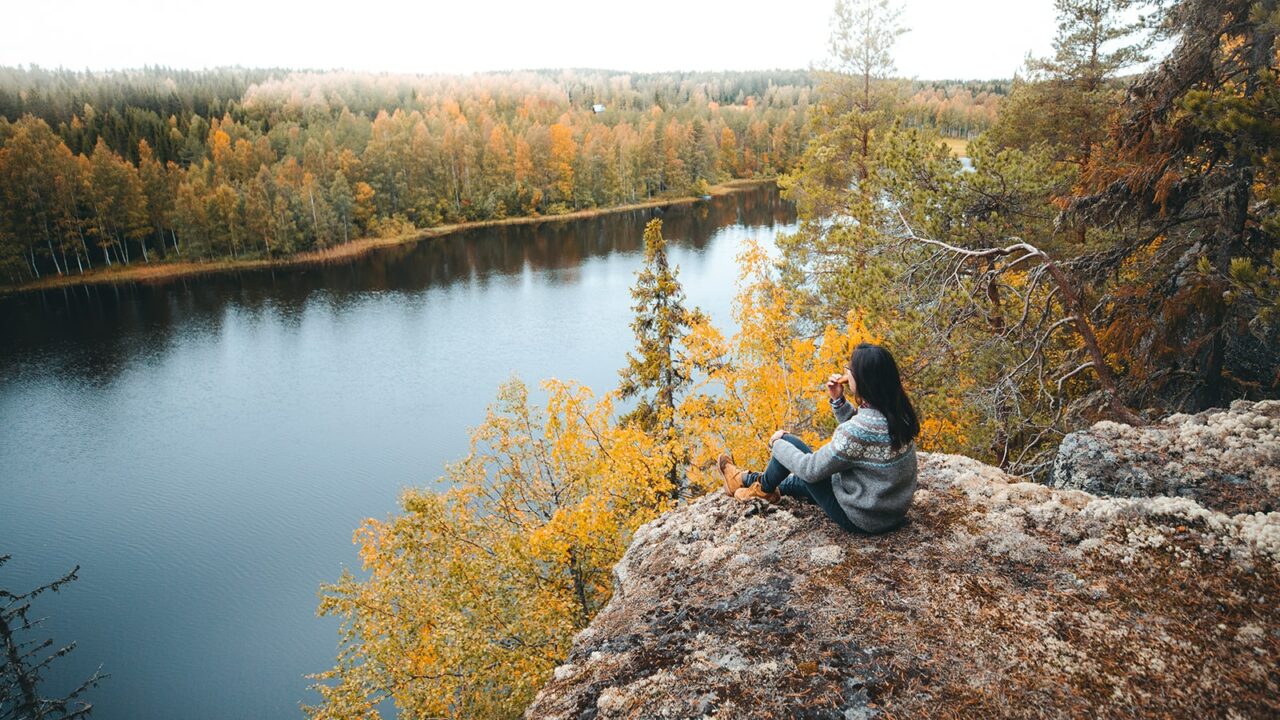 Sydänsuomi – Kinnula, Kivijärvi, Pihtipudas, Viitasaari
The meaning of Sydänsuomi is "heart of Finland". Kinnula, Kivijärvi, Pihtipudas and Viitasaari are a part of Sydänsuomi, which consists of seven municipalities. Cottage life, sauna bathing, wandering in the forest and enjoying fresh food are the essential elements of the local lifestyle. Everything revolves around nature and that is just how the people at Sydänsuomi like it. Enjoy a relaxing and peaceful holiday, taking in the beauty and the silence of lake and forest scenery.
Sydänsuomi is known as the location of Finland's southernmost wilderness area, Salamajärvi National Park. The park's varied wild scenery includes pine forest, open bogs, rugged cliffs and lakes rich in fish. Wandering along the Peuran Polku nature trail one can follow the footprints of wild forest deer, and possibly even bump into one! Read more from the website of Sydänsuomessa.
Photo: Julia Kivelä