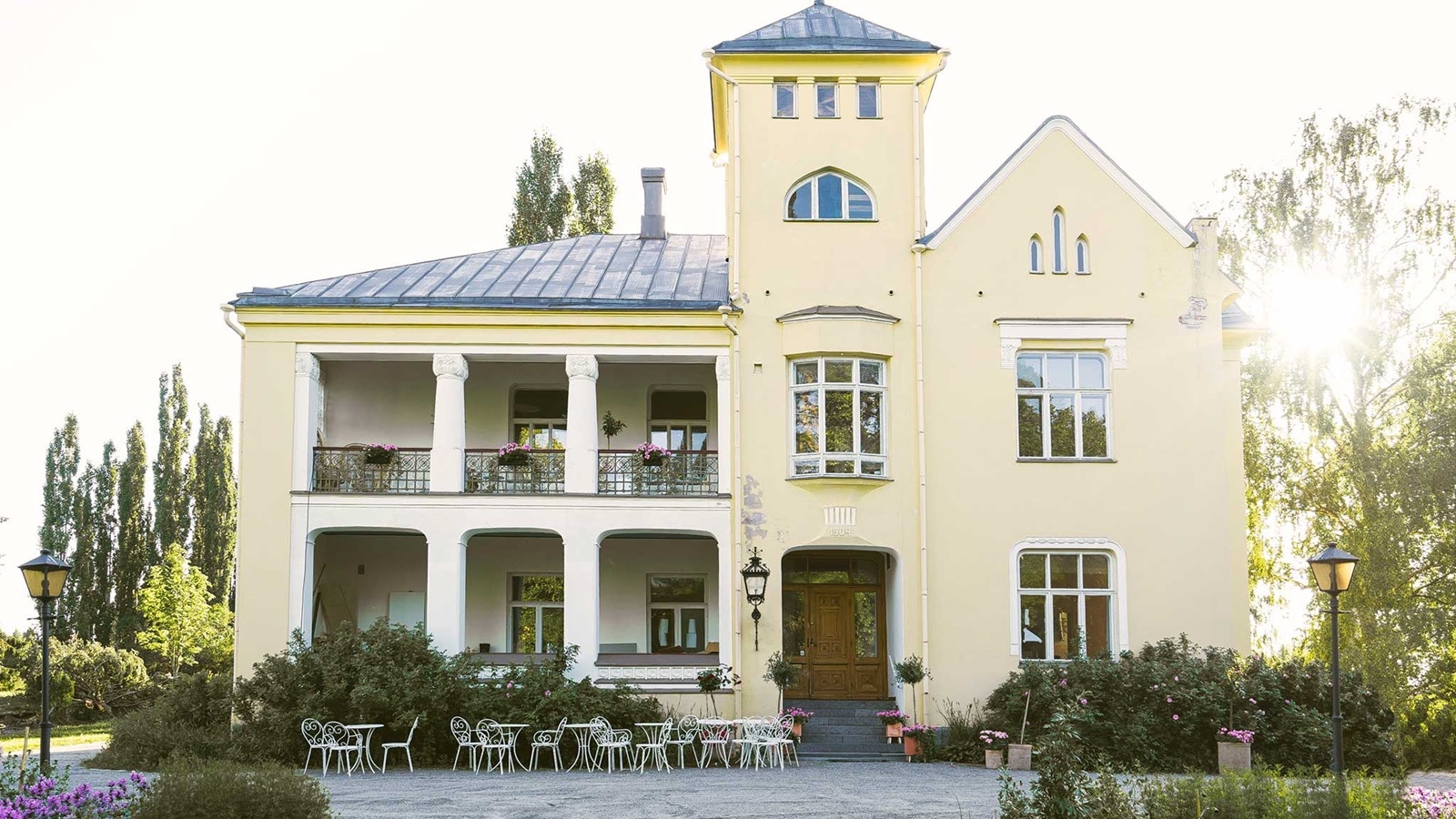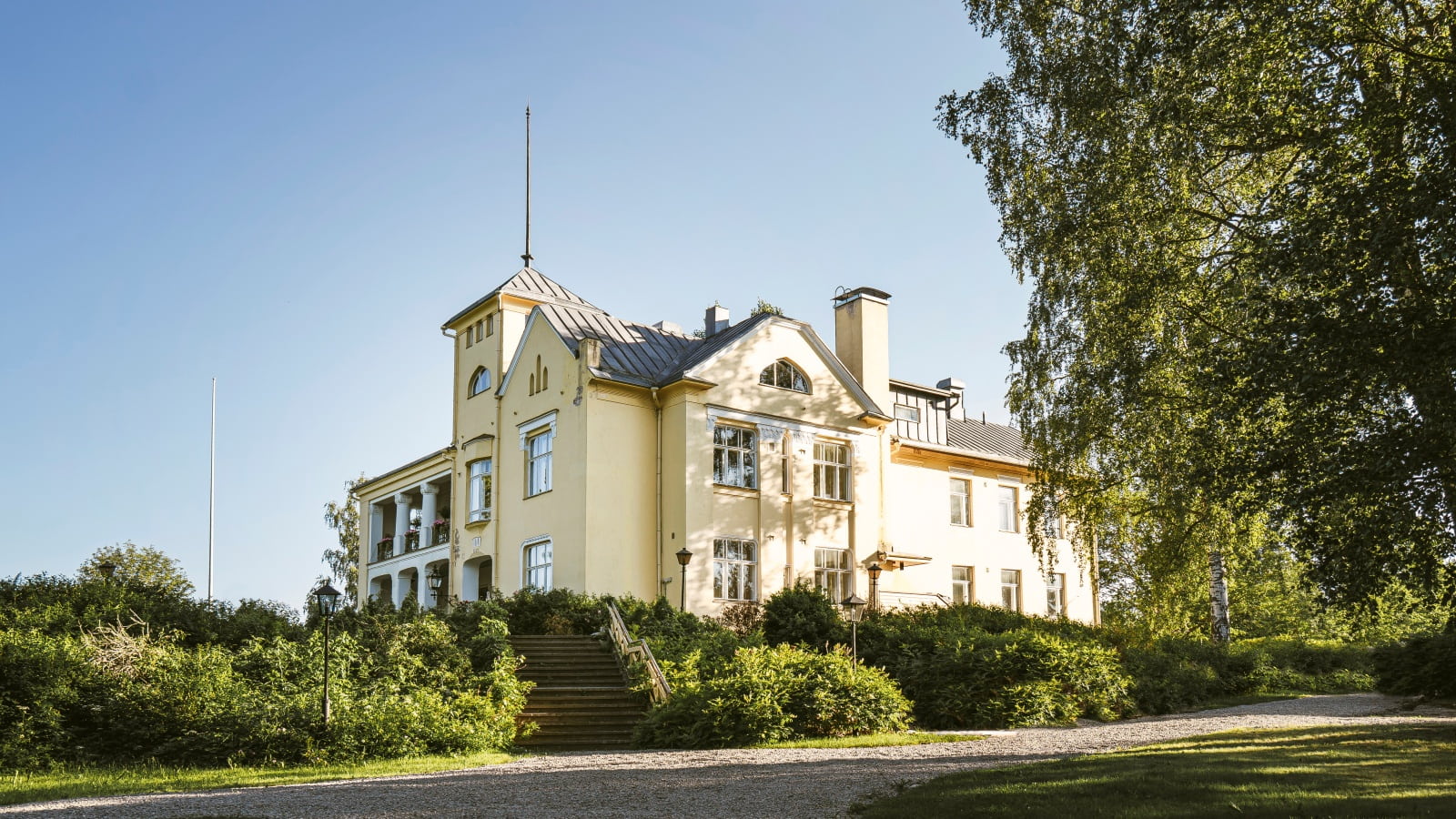 Kuokkala Manor's wine bar and summer terrace
{ "address_obj": { "street1": "Kuokkalan kartano Hameenpohjantie 50, Jyvaskyla", "street2": null, "city": "Jyvaskyla", "state": null, "country": "Finland", "postalcode": "40520", "address_string": "Kuokkalan kartano Hameenpohjantie 50, Jyvaskyla, Jyvaskyla 40520 Finland" }, "timezone": "Europe/Helsinki", "latitude": "0.0", "rating": "4.5", "location_id": "23805147", "trip_types": [ { "name": "business", "value": "1", "localized_name": "Business" }, { "name": "couples", "value": "12", "localized_name": "Couples" }, { "name": "solo", "value": "2", "localized_name": "Solo travel" }, { "name": "family", "value": "2", "localized_name": "Family" }, { "name": "friends", "value": "10", "localized_name": "Friends getaway" } ], "reviews": [ { "id": "894527429", "lang": "en", "location_id": "23805147", "published_date": "2023-06-11T10:29:03-0400", "rating": 5, "helpful_votes": "0", "rating_image_url": "https://www.tripadvisor.com/img/cdsi/img2/ratings/traveler/s5.0-34807-5.svg", "url": "https://www.tripadvisor.com/ShowUserReviews-g189942-d23805147-r894527429-Kuokkalan_kartano-Jyvaskyla_Central_Finland.html?m=34807#review894527429", "trip_type": "Friends getaway", "travel_date": "2022-11", "text": "we spent the evening in good company. the host was Simo, the manor of the Manor. the evening was spent with the Manor's menu. In addition to good food, we enjoy good wines and I think that includes...", "user": { "username": "123eki", "user_location": { "name": "Mantsala, Finland", "id": "734628" } }, "title": "Great evening with friends in Kuokkalan Kartano", "is_machine_translated": false }, { "id": "850116992", "lang": "en", "location_id": "23805147", "published_date": "2022-07-27T00:56:47-0400", "rating": 5, "helpful_votes": "0", "rating_image_url": "https://www.tripadvisor.com/img/cdsi/img2/ratings/traveler/s5.0-34807-5.svg", "url": "https://www.tripadvisor.com/ShowUserReviews-g189942-d23805147-r850116992-Kuokkalan_kartano-Jyvaskyla_Central_Finland.html?m=34807#review850116992", "trip_type": "Friends getaway", "travel_date": "2022-07", "text": "Good experience, very tasty food and unique atmosphere in this old country house. You can have your own small room or eat outside.", "user": { "username": "JarkkoL87", "user_location": { "name": "Jyvaskyla, Finland", "id": "189942" } }, "title": "Amazing atmosphere!", "is_machine_translated": false }, { "id": "827172195", "lang": "en", "location_id": "23805147", "published_date": "2022-02-07T10:26:54-0500", "rating": 3, "helpful_votes": "2", "rating_image_url": "https://www.tripadvisor.com/img/cdsi/img2/ratings/traveler/s3.0-34807-5.svg", "url": "https://www.tripadvisor.com/ShowUserReviews-g189942-d23805147-r827172195-Kuokkalan_kartano-Jyvaskyla_Central_Finland.html?m=34807#review827172195", "trip_type": "Couples", "travel_date": "2022-02", "text": "We had menu with 6 course and with more expensive wine package. We had high expectations - maybe even too high because they didn't fullfilled. The size of the portions were way too big for a menu of...", "user": { "username": "jefu25", "user_location": { "name": "Jyvaskyla, Finland", "id": "189942" } }, "title": "Something good…", "is_machine_translated": false } ], "write_review": "https://www.tripadvisor.com/UserReview-g189942-d23805147-Kuokkalan_kartano-Jyvaskyla_Central_Finland.html?m=34807", "ancestors": [ { "abbrv": null, "level": "City", "name": "Jyvaskyla", "location_id": "189942" }, { "abbrv": null, "level": "Region", "name": "Central Finland", "location_id": "8659045" }, { "abbrv": null, "level": "Country", "name": "Finland", "location_id": "189896" } ], "longitude": "0.0", "hours": { "week_ranges": [ { "localized_day_name": "Sunday", "times": [], "day_name": "Sunday" }, { "localized_day_name": "Monday", "times": [ { "open_time": "11:00", "close_time": "15:00" } ], "day_name": "Monday" }, { "localized_day_name": "Tuesday", "times": [ { "open_time": "11:00", "close_time": "15:00" } ], "day_name": "Tuesday" }, { "localized_day_name": "Wednesday", "times": [ { "open_time": "11:00", "close_time": "23:00" } ], "day_name": "Wednesday" }, { "localized_day_name": "Thursday", "times": [ { "open_time": "11:00", "close_time": "23:00" } ], "day_name": "Thursday" }, { "localized_day_name": "Friday", "times": [ { "open_time": "11:00", "close_time": "23:00" } ], "day_name": "Friday" }, { "localized_day_name": "Saturday", "times": [ { "open_time": "00:00", "close_time": "23:00" } ], "day_name": "Saturday" } ], "timezone": "Europe/Helsinki" }, "percent_recommended": null, "cuisine": [ { "name": "wine_bar", "localized_name": "Wine Bar" } ], "review_rating_count": { "1": "0", "2": "1", "3": "3", "4": "12", "5": "13" }, "subratings": [ { "rating_image_url": "https://static.tacdn.com/img2/ratings/traveler/ss5.0.svg", "name": "rate_food", "value": "5.0", "localized_name": "Food" }, { "rating_image_url": "https://static.tacdn.com/img2/ratings/traveler/ss5.0.svg", "name": "rate_service", "value": "5.0", "localized_name": "Service" }, { "rating_image_url": "https://static.tacdn.com/img2/ratings/traveler/ss5.0.svg", "name": "rate_value", "value": "5.0", "localized_name": "Value" } ], "ranking_data": { "ranking_string": "#25 of 201 Places to Eat in Jyvaskyla", "ranking_out_of": "201", "geo_location_id": "189942", "ranking": "25", "geo_location_name": "Jyvaskyla", "ranking_string_detail": [ "#17 of 173 Restaurants in Jyvaskyla" ] }, "photo_count": "61", "location_string": "Jyvaskyla, Central Finland", "web_url": "https://www.tripadvisor.com/Restaurant_Review-g189942-d23805147-Reviews-Kuokkalan_kartano-Jyvaskyla_Central_Finland.html?m=34807", "price_level": "$$$$", "rating_image_url": "https://www.tripadvisor.com/img/cdsi/img2/ratings/traveler/4.5-34807-5.svg", "awards": [], "name": "Kuokkalan kartano", "num_reviews": "29", "category": { "name": "restaurant", "localized_name": "Restaurant" }, "subcategory": [ { "name": "sit_down", "localized_name": "Sit down" } ], "see_all_photos": "https://www.tripadvisor.com/Restaurant_Review-g189942-d23805147-m34807-Reviews-Kuokkalan_kartano-Jyvaskyla_Central_Finland.html#photos" }
TripAdvisor traveler note:4.5 stars

29 reviews
Write a review

Opens in new window
Distance to the target from Kompassinaukio in Jyväskylä:
Hämeenpohjantie 50
40520 Jyväskylä
Paikallinen sää
Lämpötila: 12.7°C Broken, klo 08:02
Kuokkala Manor's wine bar and summer terrace
AN IMPRESSIVE JOURNEY THROUGH THE WORLD OF WINES
In the manor's wine bar, you can relax in a unique atmosphere enjoying fascinating and exquisite wines. Find a place on the sofa or summer terrace and let the Manor staff take you on a unique journey through the world of wines. On the summer terrace, seasonal delights in the form of small savoury treats and salads are also served.