Christmas in the Jyväskylä Region
It's beginning to look a lot like Christmas in the Jyväskylä Region! Delicious Christmas lunches, the atmospheric Christmas markets, and the most amazing ready-made Christmas holiday packages can be found in the Jyväskylä Region. Christmas in the Jyväskylä Region also consists of glorious culture, concerts, the traditional Christmas opening of Jyväskylä, the atmospheric Illuminated Christmas Park in the Church Park, and wonderful shopping and dining opportunities.
Enjoy Christmas in the Jyväskylä Region to the fullest with these tips – and share them with friends! #visitjyvaskylaregion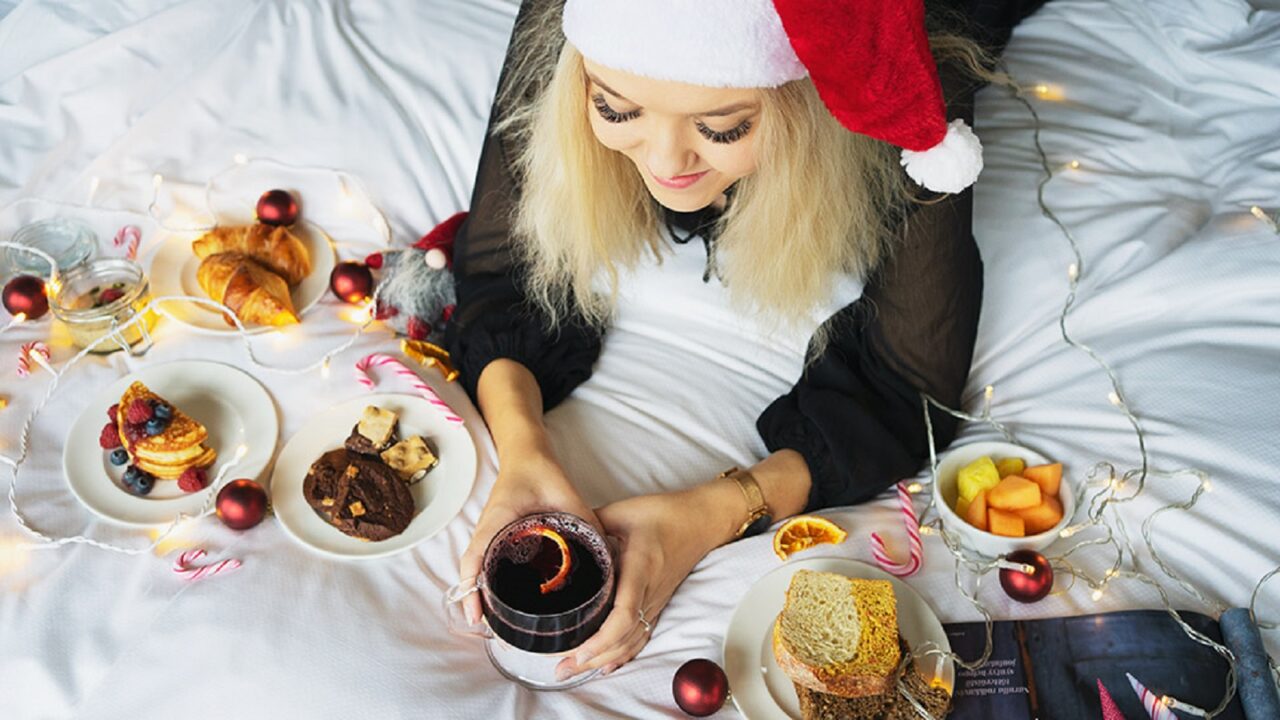 Christmas Holiday Packages
Christmas is the time for relaxing in the Jyväskylä Region. What could be a better way to do so, than to choose a holiday package, that is ready-made for you? Christmas is made easy in Peurunka Spa, where Finnish Lakeland nature meets high quality accommodation, fun winter activities and relaxing moments in the bubbles of the spa. The staff at Peurunka makes sure that visitors' bellies are full: breakfast and dinner are included in the package, as well as the accommodation. Prices for two nights from 246€/person.
Another great option for a relaxing holiday package is the leisured Christmas at Solo Sokos Hotel Paviljonki right in the heart of Jyväskylä. Most magical Christmas in Paviljonki includes one night stay in the hotel, festive Solo-breakfast and of course the Christmas dinner. The package also includes a traditional Christmas Sauna experience at the hotel! Prices for one night from 95€/person.
Photo: Lina Markkanen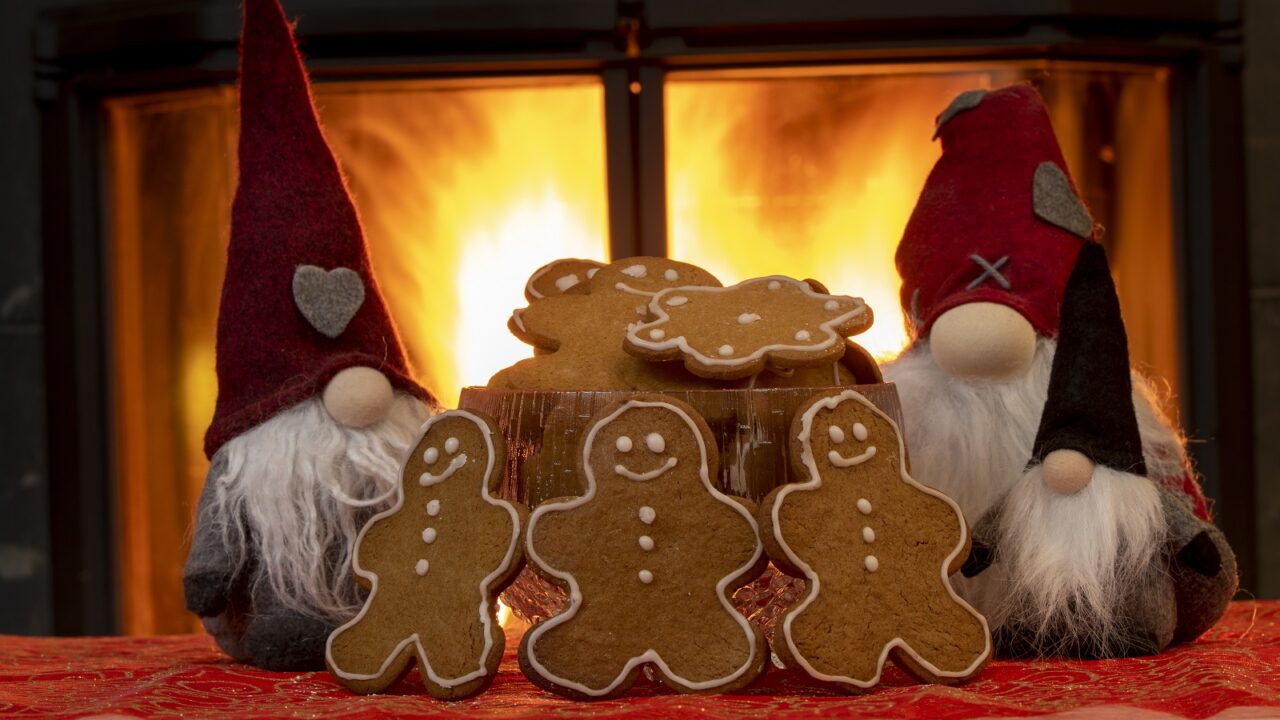 Christmas markets and gift shopping
Exploring the joyfully warm atmosphere of Christmas Markets and searching for the perfect gifts is a tradition for many in the Jyväskylä Region. Fair center Paviljonki's Christmas Market will start the anticipation of Christmas, when the Christmas, Gift & Craft Fair will conquer the building in the wintery Lutakko Square on November 20th-21st. The fair is open on Saturday from 10am to 6pm, and on Sunday from 10am to 4pm.
The historic 19th century craftsman's courtyard, Toivola Old Courtyard provides a magical setting for a Christmas market. The most beautiful yard of Jyväskylä will soon transform into a market square full of Christmas treats, unique gift ideas interesting performances and having fun together. This is one of the most visited attractions in the Jyväskylä Region during Christmas!
For a design lover, the best gifts are found from Alvar Aalto Shop, Koto Designmarket and Marimekko. Other local goods can be bought from the Christmas Markets, but also places like Teeleidi (lovely place for tea lovers) and Ellin Kirja & Putiikki (great souvenirs and local finds). In Petäjävesi Heinähattu and in Joutsa Karoliinan Kestikievari sell their local delicacies and handcrafts. Also local farms like Perttula Farm or Hakamaa Sheep Farm take orders, if you'd like their products in your gift bags.
Photo: Sami Lamminaho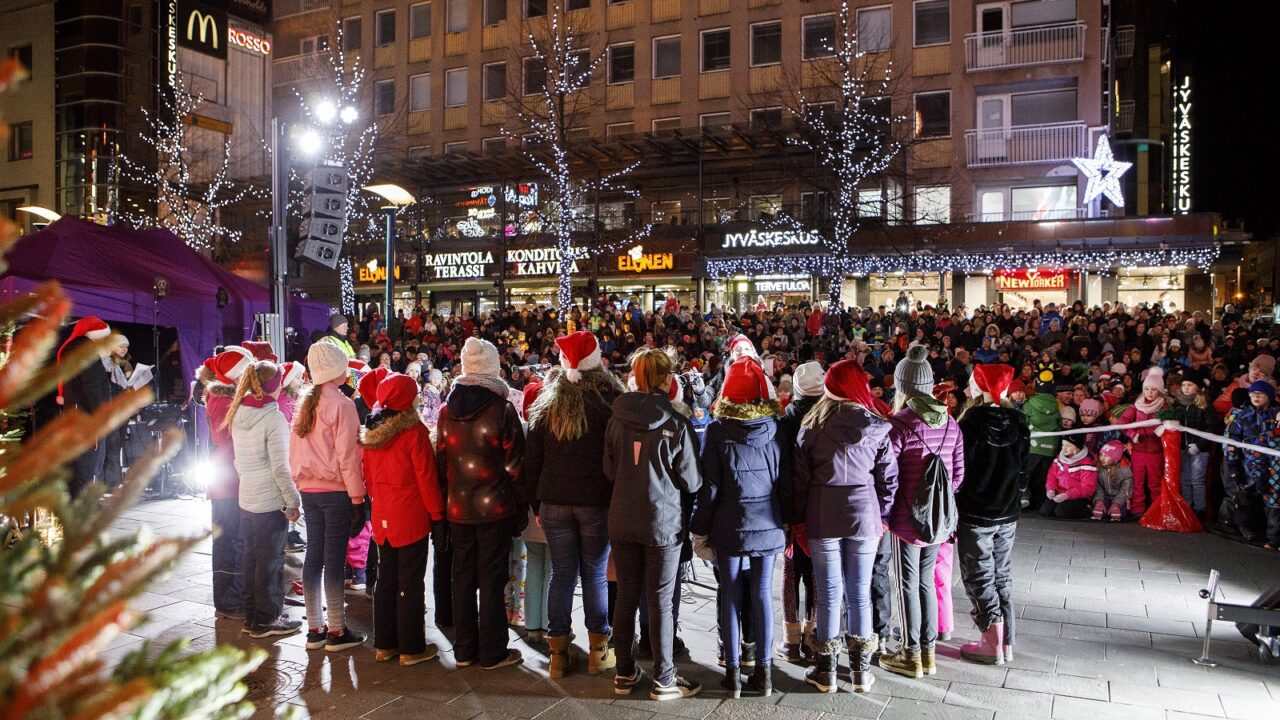 Jyväskylä's traditional Christmas Opening
The traditional Christmas Opening of Jyväskylä is held on November 20th this year at 17:15 onwards. The event that the locals love so much consists of Christmas carols, opening of the illuminated Church Park, programme at Toivola Old Courtyard and much more. There will be a visit from Santa Claus himself!
Family's little ones can be brought to Sokkari Shopping Centre's free Art Park. The art park is open on Saturdays until 18th December, and can be found on the second floor of Sokkari. Also the parking is made easy: you can leave your car at Jyväs-Parkki city centre parking garages free for the first 2 hours on Saturdays. See all information on the Christmas Opening here!
Photo: Christmas Opening 2018 / Hanna-Kaisa Hämäläinen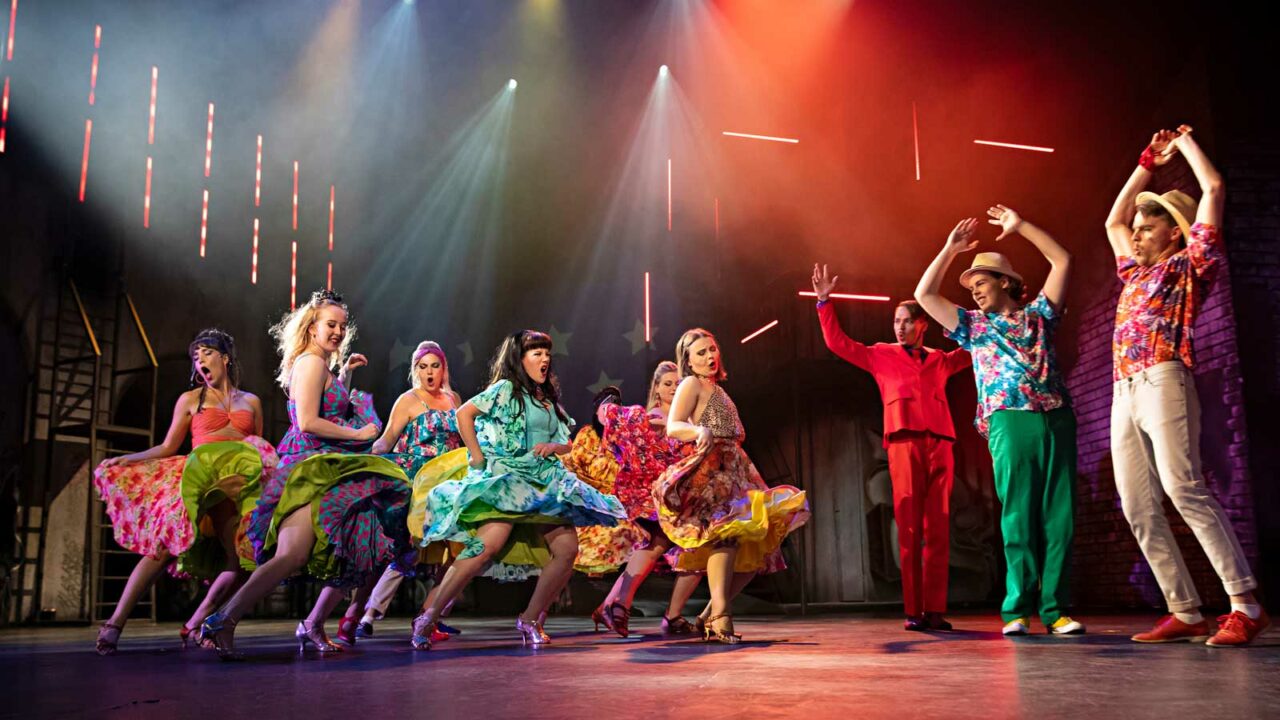 Concerts and culture
As the cold winter air tingles the cheeks, it's a good idea to get warm inside and enjoy culture experiences. Finns love their Christmas music, which often is quite different from other cultures. Finns enjoy peaceful and almost melancholic genre of Christmas music. Most loved Finnish Christmas songs include Sylvian joululaulu, Jouluyö, juhlayö and En etsi valtaa loistoa. Take a look at how Christmas in Finland sounds like!
These songs, alongside with many others, can be heard in Christmas concerts this season. Saara Aalto alongside with Teemu Roivainen perform the most beautiful Christmas carols in Taulumäki Church on 3rd of December. Taulumäki Church is the stage for many breathtaking concerts this season. Ask more from the Travel Advisors! Christmas magic -concert can be experienced on 16th of December in Paviljonki fair centre. Also see the Event Compilation for the rest of the events.
Swan Lake is one of the most loved ballets in the world. St. Petersburg Festival Ballet is visiting the Jyväskylä Region on 3rd of December and perform this amazing number in Paviljonki fair centre, located in famous Jyväskylä Harbour in Lutakko.
Photo: Jiri Halttunen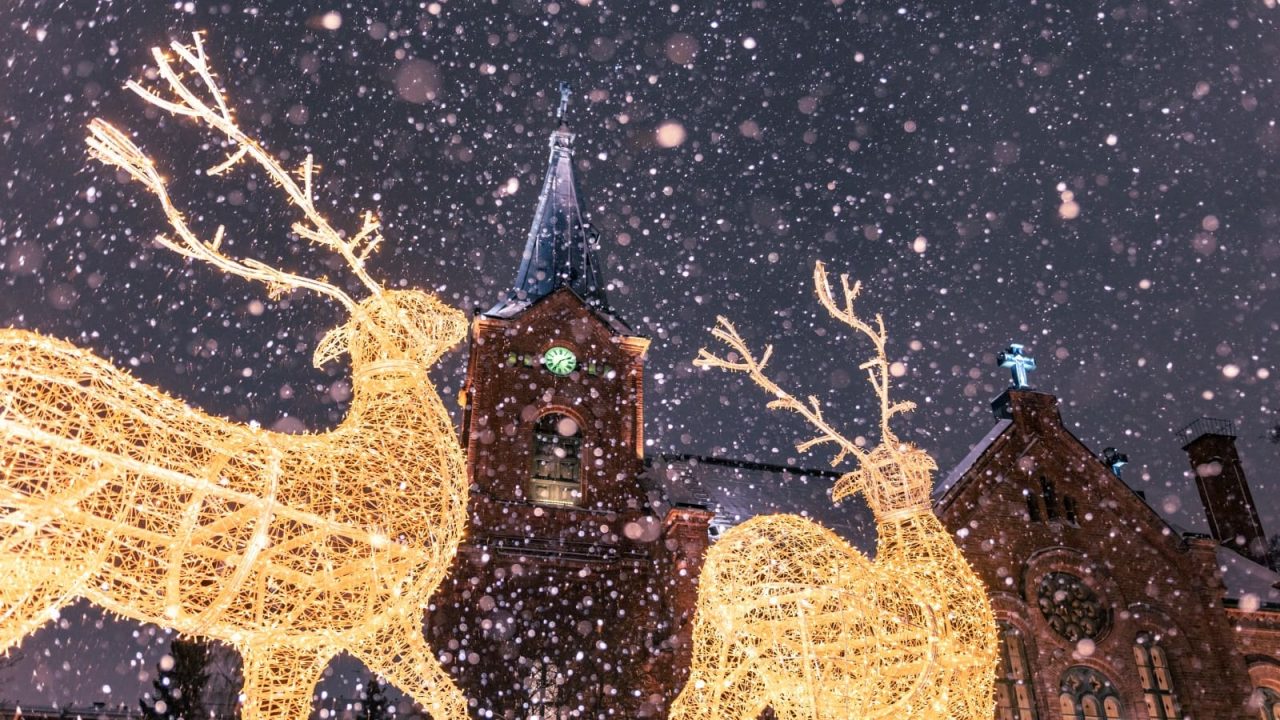 Illuminated Christmas Park
The mesmerizing lights of the beloved Christmas Park will be lit as part of the programme of Jyväskylä Christmas Opening on Saturday 20th November. The magical atmosphere of the Christmas Park is there throughout Christmas, because the lights will be glittering until Epiphany. In the Christmas Park, you'll find Santa's sparkling reindeer, beautiful illuminated Christmas balls and a stunning light fountain!
Jyväskylä is known as the City of Light all year round. Christmas is the perfect time for admiring the permanent light installations – there are more than 100 of them in Jyväskylä! For instance, take a magical walk around Lake Jyväsjärvi and be enchanted by the lights next to the pitch dark sky.
Photo: Maris Grunskis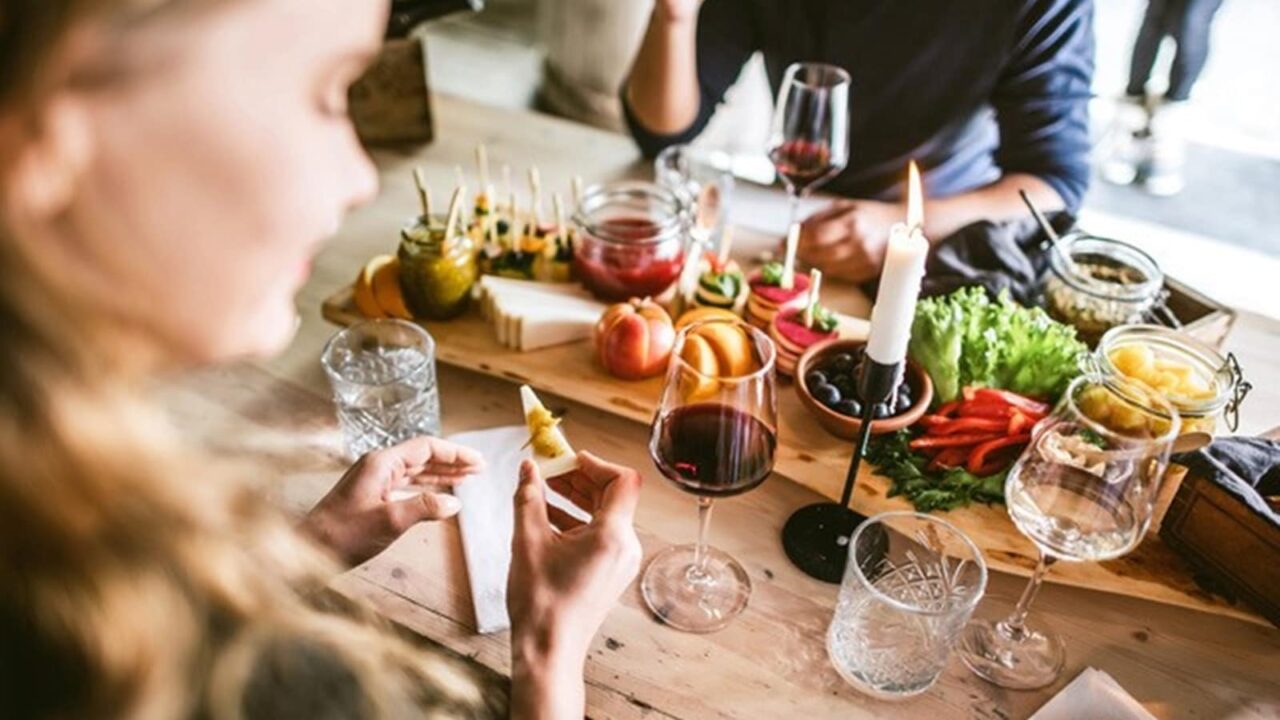 Christmas dinners and cafes
During Christmas time, cafés in Jyväskylä Region are filled with aromas of gingerbread and mulled wine, or as the Finns say, "glögi". Perttulan Tila in Laukaa offers the loveliest Christmas feeling in their Christmas cafe, located outside in an old haybarn. How cozy is that!
Many restaurants have scrumptious Christmas menus. Well-known restaurant Pöllöwaari serves authentic taste and glittering of candles during Christmas lunches and dinners every day from 3rd to 22nd of December. Trattoria Aukio serves the Christmas Menu until the 19th of December. Trattoria Aukio's menu includes three options: Pre-Christmas Menu, Menu Fisso Vegan and La Tavola Italiana.
Savutuvan Apaja sets the Christmas table on demand. Located on the shore of the breathtaking Lake Päijänne, Savutuvan Apaja is close to the Finnish nature. While enjoying the authentic local tastes, you can also try out memorable Christmas experiences!
Photo: Savutuvan Apaja
Use #visitjyvaskylaregion and share your holiday experiences on social media!