Public art in Jyväskylä, the City of Light
One of the great things Jyväskylä's City of Light project does is bring light to the city after dark – fundamentally shaping the way we see the urban environment both at night and during the winter months. The project delivers high-quality lighting provision to ensure that the city is safe and well-lit for the comfort and enjoyment of locals and visitors alike but also achieves much more than that by making the city a more attractive and more interesting place and fostering distinct identities across its many neighbourhoods. One particularly effective approach for creating focal points within the city is to illuminate the artworks on public display. Sculptures, murals, statues and other installations tend to draw lots of visitors during the day but, with the right lighting, they take on a fascinating new dimension after dark that's well worth checking out too. It is an opportunity for everyone to see the world around them in a whole new and exciting light.
In Jyväskylä, the focus is on ensuring that lighting is integrated into the design and installation process for new artworks from the beginning, while illuminations are also being retrospectively introduced across existing public displays too. In this article, lighting coordinator Elisa Hillgen has put together a guide to her favourite illuminated artworks across Jyväskylä.
Hyöky – Surge
Completed in 2006, Surge is made of stainless steel and reaches to a height of more than five metres. Thanks to the sculpture's vantage point on Ylistönrinne, it can be seen from across Lake Jyvjäsjärvi too. At night time, this multi-dimensional giant takes on a whole new appearance, as light reflects off its organic contours. Hyöky is the work of artist Kimmo Schroderus, who was born in Jyväskylä in 1970 and currently resides in the Finnish capital, Helsinki.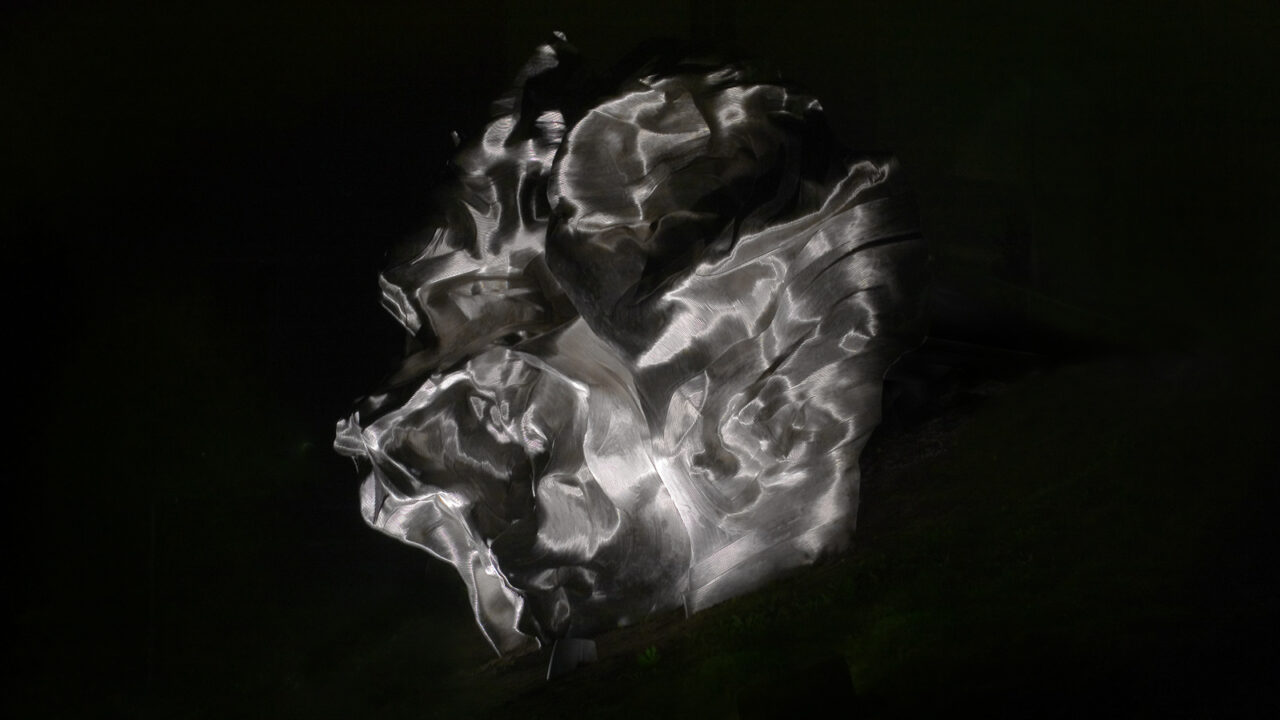 Kuuseen kurkottaja – Reaching for the spruce
Reaching for the spruce by Tommi Toija in Jyväskylä's Kangas district features a re-purposed streetlight alongside "little dude", a character familiar from the artist's many other works. "Toija's art is bold and packs plenty of attitude but it's also imbued with a deep humanity and a sense of humour, making it approachable and relatable too. These are precisely the sort of themes we wanted to see at Kangas, and they acted as the catalyst for the wider creative process." (Art coordinator Kirsi Pitkänen in Kangasverkko.fi). Here, the old light fixture has been replaced with a modern LED bulb and the boy, clinging to the post, arm stretched out in front of him, is spot-lit by a nearby street light.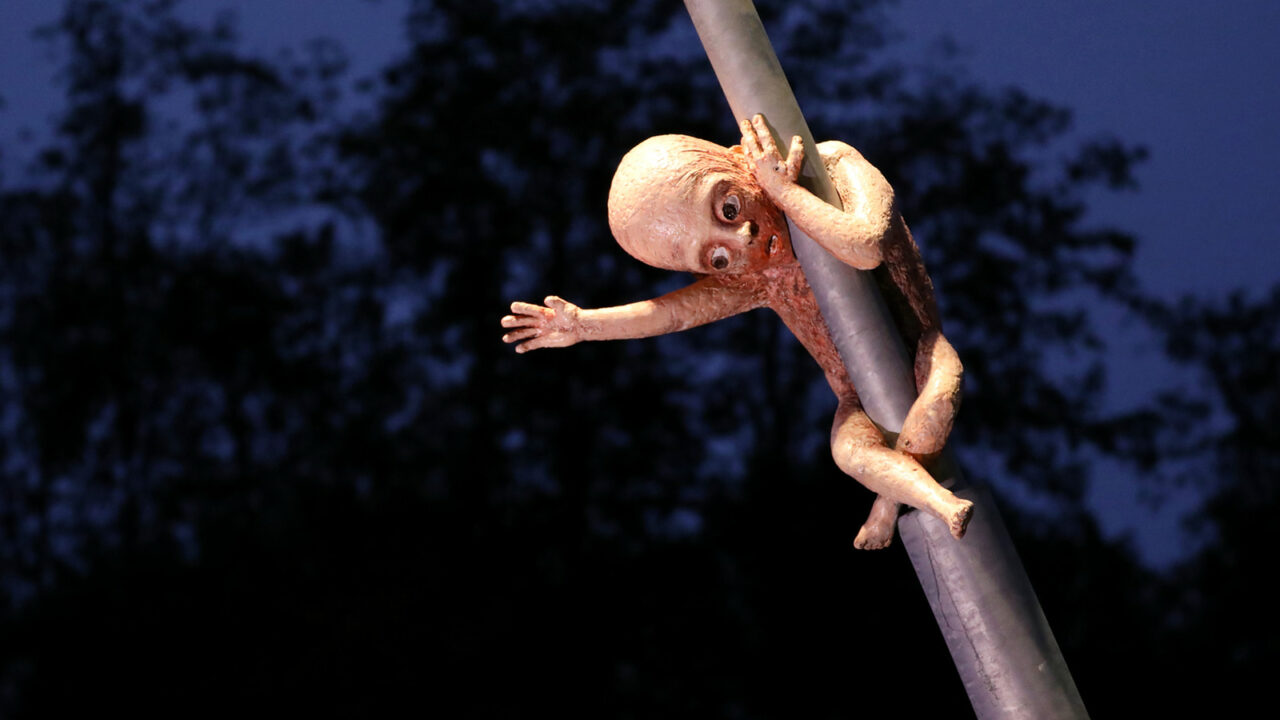 Maan ja taivaan välissä – Between heaven and earth
Between heaven and earth is a wind mobile created in 2000. It is located in the inner courtyard of the District Court building, which is accessible to the public via Vapaudenkatu. While the wind mobile is made of solid steel and acrylic, its presence is also characterised by the ephemeral interplay of light and movement, as it casts multi-coloured, ever-shifting shadows across the walls that surround it. The artist Harald Karsten was born in Germany in 1948. He passed away at his home in Jyväskylä in 2016.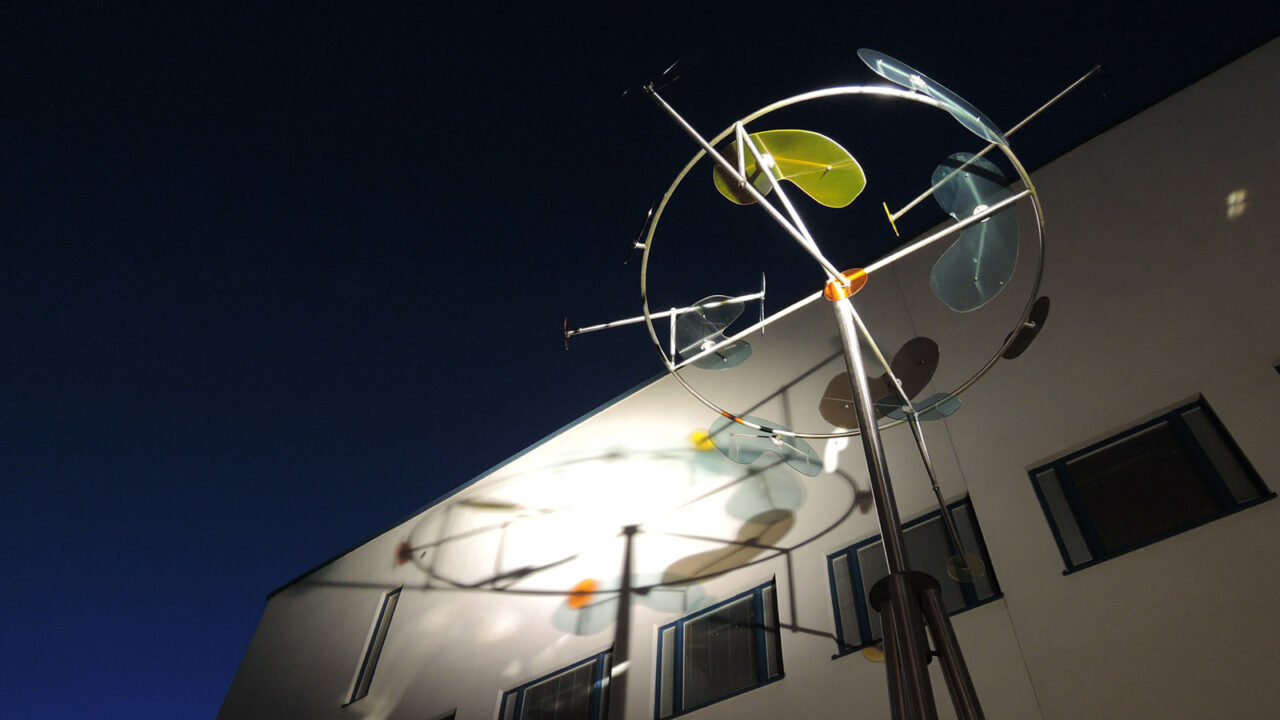 Lintutuoli – Bird chair
Bird chair in Lutakko Park is also the work of Harald Karsten. When lit, this delightfully delicate sculpture becomes a highly visible feature of the wider landscape. The artist himself described it as a stylised rendition of a bird's leg and foot with a seat added on top. "As the title of this piece already suggests, I designed it as a rest area for birds, so I very much see it as environmental art too." (Jyväskylän tiedotuslehti magazine, 9 November 2005.)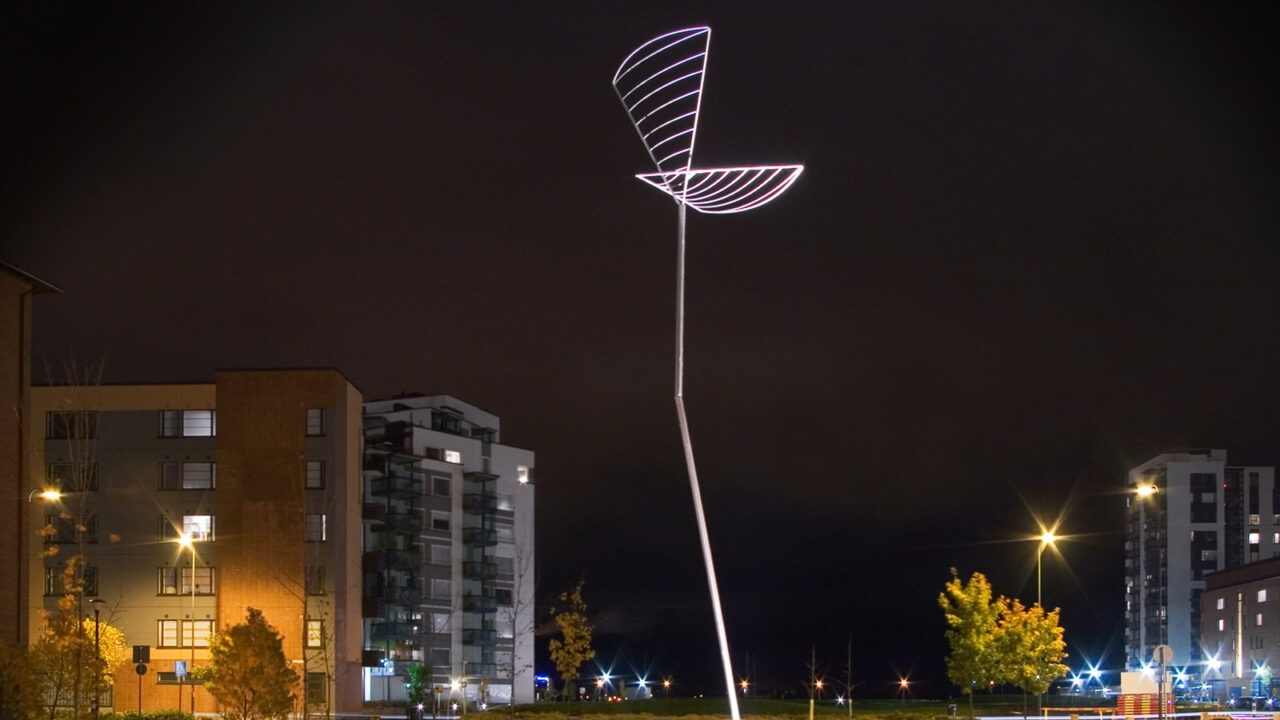 Rakastan – I love
Antti Maasalo's (born 1940) I love was installed in Yrttisuo Park in Kuokkala in 1985. In autumn 2018, lighting was introduced, giving the sculpture an entirely new night-time look. The artist himself had originally designed a lighting concept to complement the work and, after the lengthy delay, this idea was finally implemented using modern LED technology. The frame of this kinetic light installation is made with steel coated in iridescent paint. It features six polished blades that rotate around the frame powered by the wind. In addition to steel, other materials used to create this artwork are listed as light, air and nature.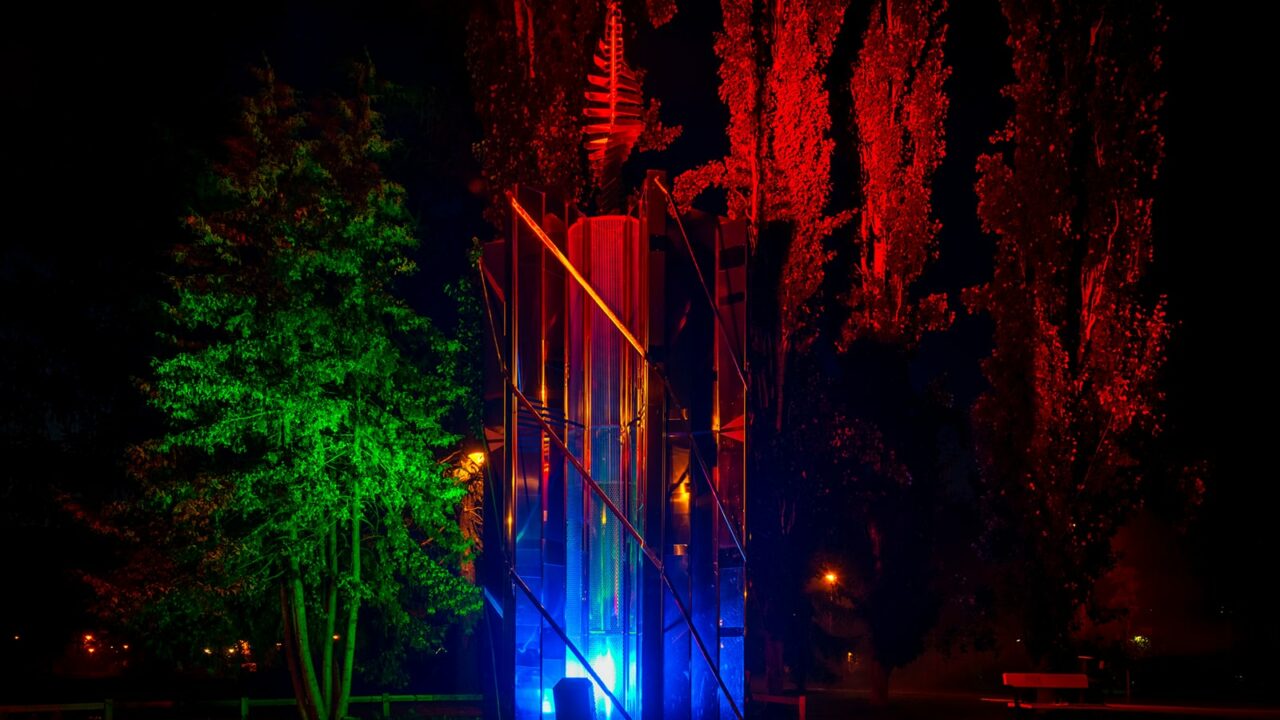 Puutarhurin taivas – Gardener's heaven
In 2014, Finland's annual Housing Fair saw the construction of a new residential community in Jyväskylä's Äijälänranta. This development also incorporates public art, like Pekka Jylhä's Gardener's heaven, which enjoys a beautiful waterfront location. At night, the vibrant carrot top sculpture is bathed in light, accentuating its deliciously bright colours. Gardener's heaven was commissioned following an invitation-only competition. The competition brief asked the entrants to explore themes such as trees, gardens, waves and Jyväskylä as the city of light. Born in 1955, Pekka Jylhä is one of the best-known sculptors practising in Finland today.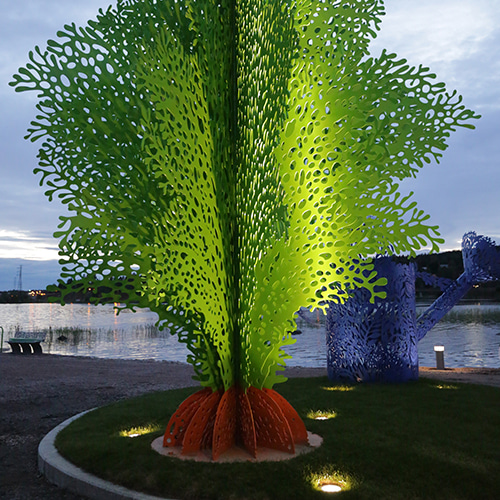 Streetlight prototype for Rantaraitti trail
Public art can also be integrated directly into urban streetlight fittings themselves. An excellent example of this are the brand-new prototype lights for Jyväskylä's Rantaraitti trail, which was installed for City of Light 2019 event. The lighting scheme for the trail as a whole is due to be updated in the next few years. Under the current plans, the style and look of the original poles and light fittings will be retained, but they will be complemented by state-of-the-art technology and the addition of new creative elements. The new perforated pattern is designed by artist Tiitus Petäjäniemi. The prototypes are available for public viewing at Ylistönrinne.
City of Light festival
My final tip is the incredible City of Light festival that will be bringing Finnish and international light artists to Jyväskylä this autumn. During the festival's three-day run, visitors will be treated to light installations and themed events across Jyväskylä, including light art created by professional artists, our event partners and students. Annually the festival attracts more than 100,000 visitors and draws extensive media coverage both at home and abroad.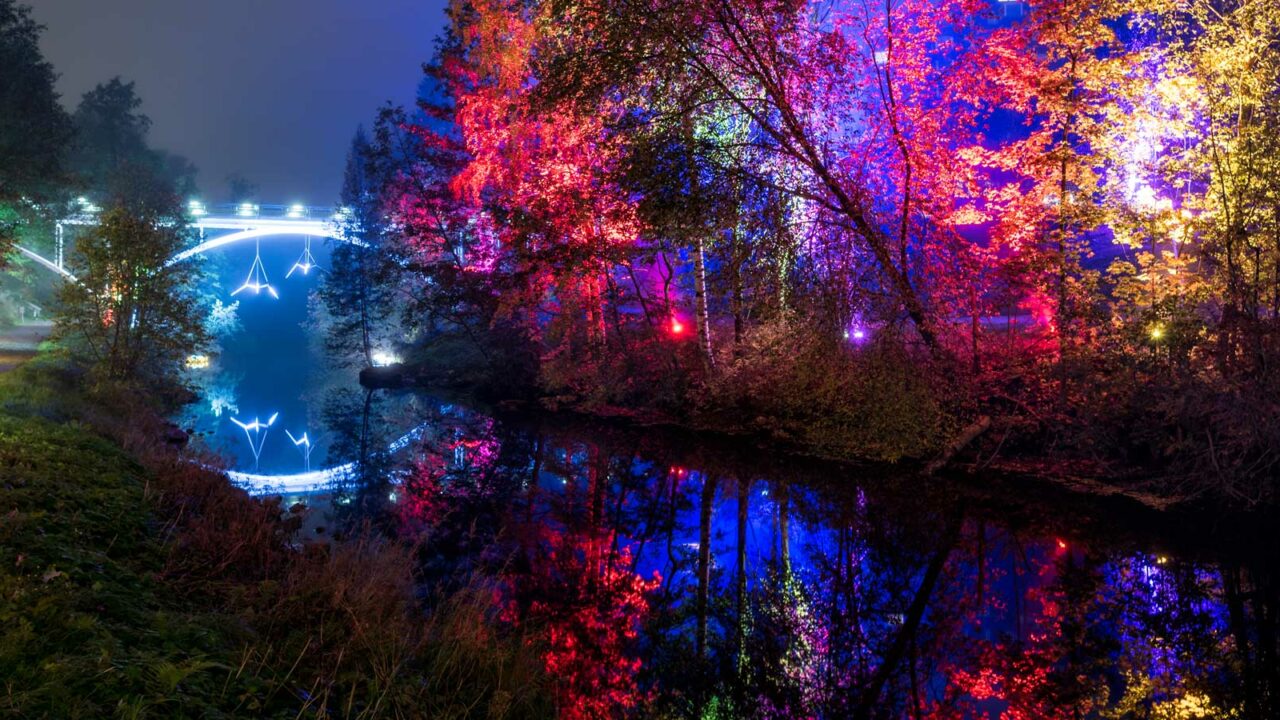 Elisa Hillgren is a lighting designer and a coordinator of the City of Light project.