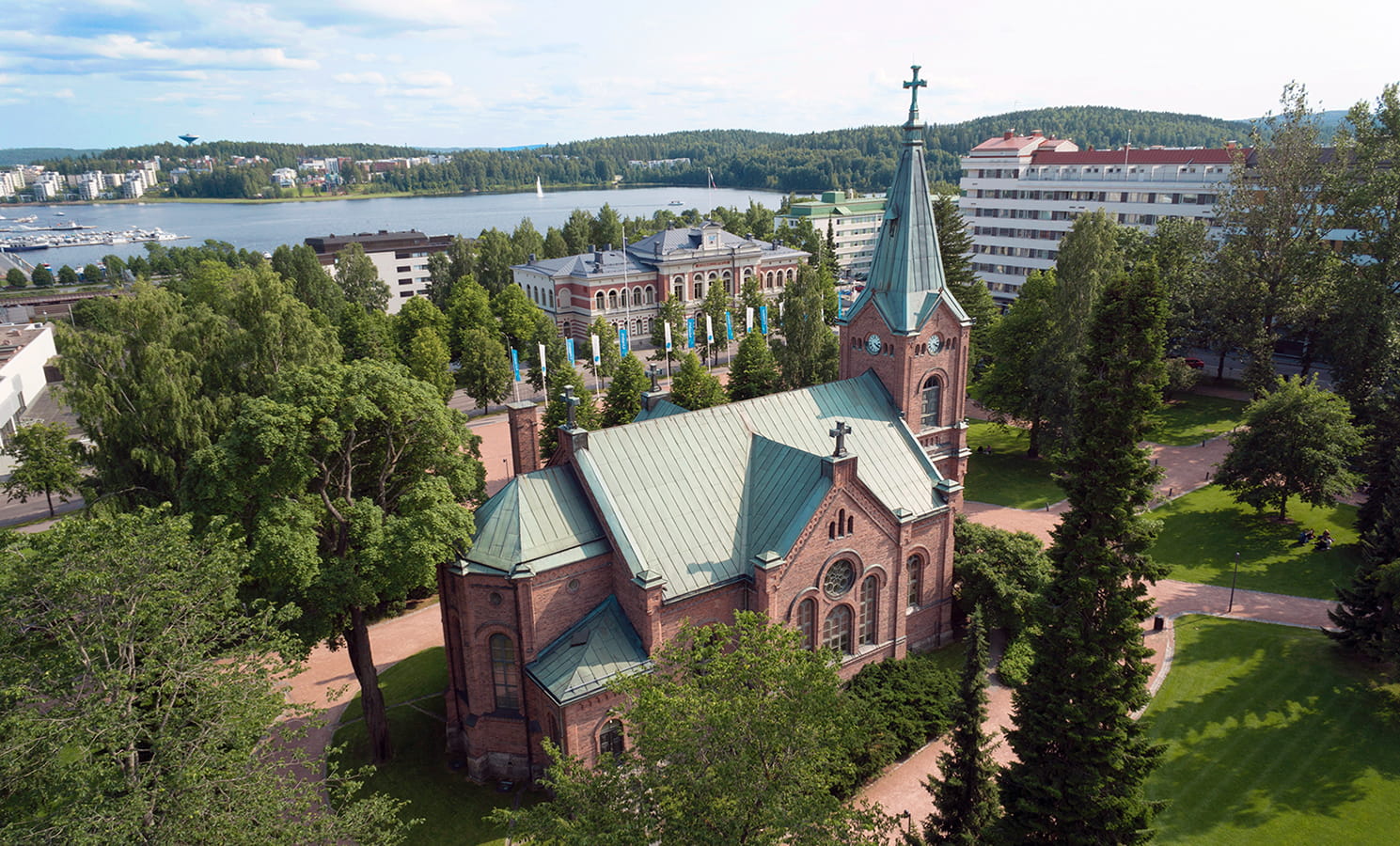 Distance to the target from Kompassinaukio in Jyväskylä:
Kirkkopuisto
40100 Jyväskylä
Paikallinen sää
Lämpötila: 9.1°C Bright, klo 21:15
Church Park
Church Park (Kirkkopuisto) is one of the oldest parks in Jyväskylä. Its construction began in the early nineteenth century, and it served as a marketplace when Jyväskylä was established in 1837. The Jyväskylä marketplace was located in Church Park from the 1830s until the 1930s. Jyväskylä City Church, the first stone church in Central Finland, was built in the middle of the market square in 1880.
Church Park is part of a nationally significant setting and urban environment. This culturally and historically valuable park underwent an extensive renovation in the early 2000s. Today, Church Park is a green oasis, a beautiful and popular meeting place in the middle of the city. In the summer, people gather on the grass of Kirkkopuisto with their picnic, and on Christmas time, the Christmas lights are admired in Kirkkopuisto.
Jyväskylä City Church is open on Wed–Fri from 11 am to 2 pm and during services. Guides are available at the church. City Church is also a popular wedding church especially on summer Saturdays.
Works of art at Church Park
1) Night
Artist: Kain Tapper
Owner: City of Jyväskylä
Completed in 2003
Material: Black granite
2) Maiden/Spring/Longing
Artist: Oskari Raja-aho
Owner: City of Jyväskylä
Completed in 1944
Material: Red granite, 155 cm × 73 cm × 56 cm
3) Veterans Memorial
Artist: Erkki Kantonen
Owner: City of Jyväskylä
Completed in 1992
Materials: Granite, steel, concrete
4) Woman from Kalevala
Artist: Essi Renvall
Owner: City of Jyväskylä
Completed in 1954
Materials: Bronze and grey granite, 293 cm × 80 cm × 80 cm
5) Memorial of the Battle of Taipale
Artist: Matti Hämäläinen/Eevert Porila
Owner: City of Jyväskylä
Completed in 1940
Materials: Bronze and granite
6) Young Minna Canth
Artist: Pauli Koskinen
Owner: City of Jyväskylä
Completed in 1962
Materials: Bronze and red granite, 277 cm × 215 cm × 106 cm
Others from the same position